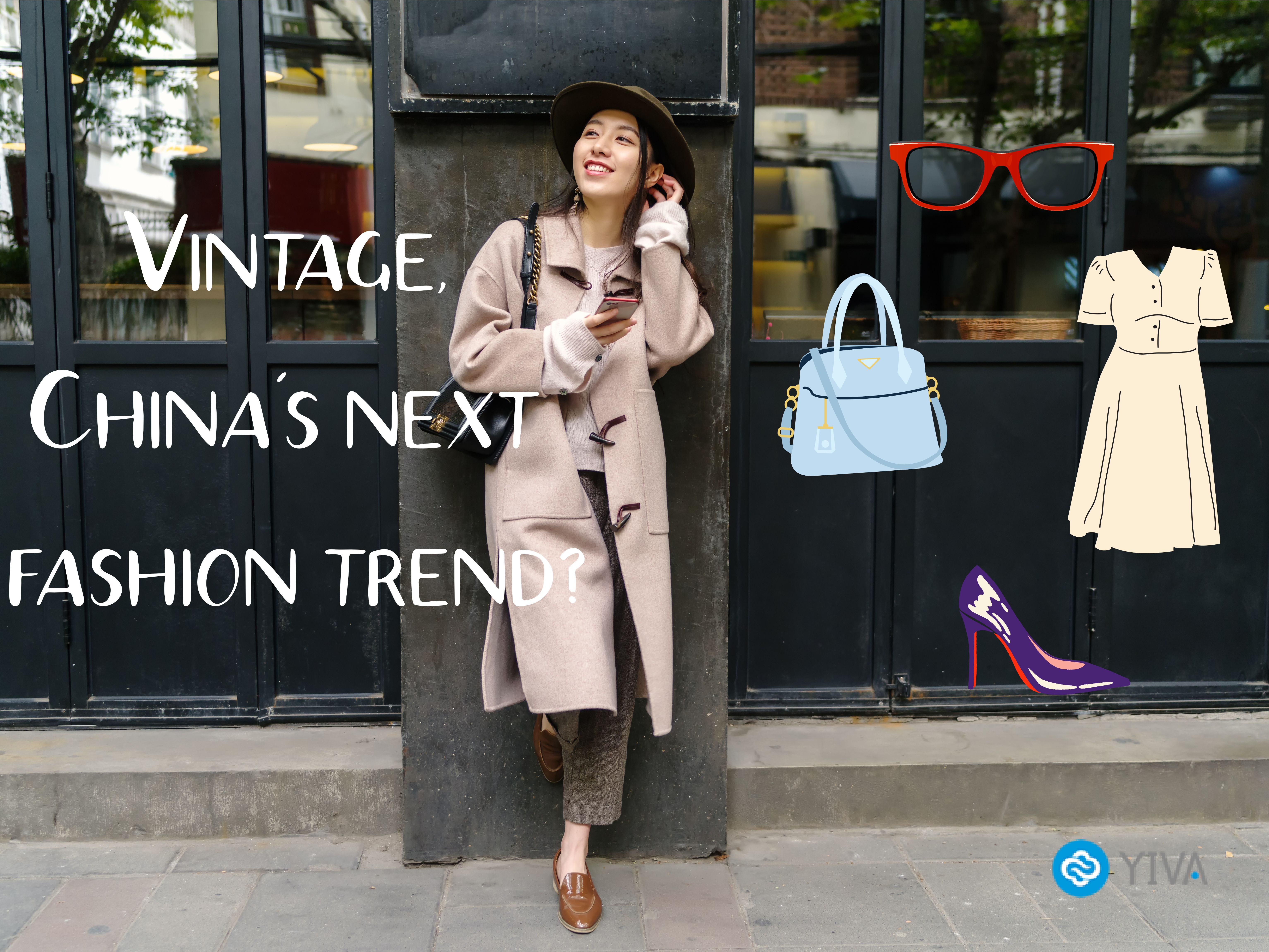 Why Second-hand Louis Vuitton bags are winning GenZ 's heart?
Second-hand e-commerce platforms, such as Vestiair, which has valued at $1.7 billion, and Xianyu (IdleFish), the largest second-hand trading platform in China, which has reached more than 300 million users. These second-hand platforms are constantly Chinese consumers' purchasing behavior. It makes second-hand or vintage products mainstream instead of sporadic "niche" shops located in office buildings. Vintage brands ( i.e. SECOO, Plum) and e-commerce websites such as Farfetch have also launched second-hand trading services. These appearances show that the vintage market is fast expanding.
As the largest market of luxury goods at present, China's second-hand luxury trading market is like the tip of the iceberg. According to Bain, the idle luxury market in China will reach USD $5.1 billion in 2025, with a compound growth rate of 15%.
Who Is Buying "Vintage" in China?
In fact, there are some differences between the concept of "Second-hand", "Archive" and "Vintage". For example, "Vintage" is referred to old items produced at least 20 years ago after 1920 and does not necessarily represent used second-hand items. Among vintage, those smart and high-class ones can be called "archives". However, nowadays more vintage stores are selling second-hand goods, especially second-hand luxury goods. The reason behind this, above all, is the change in luxury consumer segments.
In the past, the main consumers of luxury goods were often the older generation who were successful and wealthy. This group of consumers enhances the symbolic meanings of luxury more than its practical value. In this context, luxury represents class and status, so they are not stingy with the price.
But in recent years, the main force of luxury consumption has begun to shift to the younger generation in China. According to Guotai Junan Securities, young buyers between 19-36 YO are the main customers of second-hand luxury goods, which accounts for 65% of the market. On the one hand, this segment of consumers is influenced by their parents' symbolic value, and on the other hand, they are also influenced by the trendy culture, which regards luxury goods as a part of people's fashionable life. Therefore, second-hand luxuries with lower price tags become the suitable choice to start with.
In terms of product categories, second-hand bags and leather goods are the best-selling and the most popular one, accounting for more than 60% of the total value in the second-hand trading market. More than 70% of the female consumers have experience in buying second-hand bags. In the meantime, due to rising environmental awareness, clothing has become the second largest category in the second-hand market after bags. Considering the costs and other factors, vintage and second-hand clothing are expected to be gradually accepted by more consumers in the future, pushing the second-hand economy and recycling fashion market into a new peak.
The second-hand luxury is highly sticky to the consumers. Compared with new products, a "unique" vintage is the best way for Gen-Z to express their individuality. Besides, vintage is also regarded as a rebellion against fast-fashion to some extent. Because of this, celebrities and influencers are more willing to visit internet-famous vintage shops and take pictures. In general, vintage products and second-hand luxuries have become an integral part of the "vintage culture" and synonymous with a distinctive style. It has built a bridge for young people's inflated desire for expression and their deflated wallets.
Young People are Fond of the New
According to PLUM's report on the second-hand market, there are only 24% pure buyers and 14% pure sellers in the market, while another 62% of users play both roles. A trend of "buying and selling" is emerging in the vintage industry. For some users, the integration of buying and selling allows them to keep enjoying different luxury products.
Nowadays, there are three main business models in the vintage industry.
1) The first one is the C2C model of individual sellers. EBay, Depop, and Vestiaire in Europe, and Xianyu in China, as well as some online second-hand group chats, follow the C2C trading model. Individual buyers and individual sellers can communicate and trade directly through online channels.
2) B2C model refers to professional sellers with certain sources of goods trading with buyers through online and offline channels, which is also the dominant selling mode of vintage goods now. Developed social networks are transforming some individual buyers in the C2C model into B2C. Through our research on various Chinese social platforms such as the RED, Weibo, and WeChat, we find that the concept of the physical "offline store" is being weakened by new technology, which also makes more consumers become professional sellers driven by their hobbies and amplified social media outreach.
Starting a vintage business and getting vintage stock is relatively easy. Especially in European countries, ubiquitous vintage stores, kilo sale events, bazaars and developed second-hand platforms enable careful buyers to purchase vintages at low cost. Meanwhile, art markets and pop-ups have gained popularity, where sellers can sell their vintage goods for a fee to the organizers. Some sellers even carry out limited-time pop-ups directly at their homes, and invite buyers via social media This directly saves the store rent and booth fee.
Also, offline vintage shops are paying more attention to social media strategy. Shop owners start to become KOLs and live-streaming hosts, sharing vintage OOTD (outfit of the day) notes on the RED app, recording unboxing videos of overseas vintage products, or live-broadcasting with their vintages to capture attention. For example, a vintage shop "Aloooooha Vintage" with 25,000 followers on the RED, generated 600,000 orders in its first live broadcast.
WeChatis also an essential online channel in the vintage B2C market in China. Products posted on Xianyu (IdleFish) and Taobao are easily blocked by platforms, and offline sales have to pay rent, sellers will establish long-term connections with loyal consumers through WeChat. When they get new items, they can iinstantly notify their WeChat friends.
3) The C2B2C, aka consignment model. In addition to second-hand luxury business and stores, some online B2C sellers are able to offer their regular customers consignment services for free in order to enhance customer relationships.
Overall, we suggest that individual professional vintage sellers with lower selling costs will retain their advantages and gradually occupy the mainstream in China. They have stable customers with high repurchase rates and they will use acquaintances' social networking to attract more new customers via digital channels, while the traditional physical stores will continue to be weakened in the vintage industry in China.