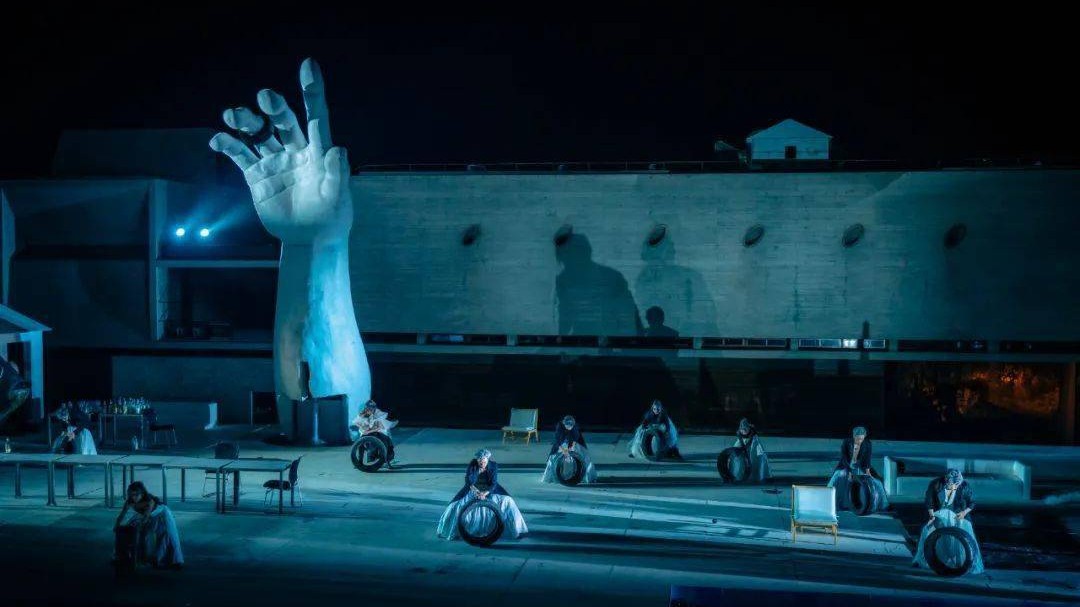 People are yearning for poetic life and faraway scenery. A performance cannot let audiences reach faraway places, but it can make them experience "life elsewhere". In recent years, with the huge success of the filmization of theatre IPs by Kaixin Mahua and the musical-related variety show Super–Vocal, dramas and musicals have received great attention. The doors and markets of Chinese theatre are opening up like never before. In 2021, the size of the national performance market has recovered to RMB ¥33.585 billion after Covid-19, with 32,502 performing arts groups and theatres of all kinds operating in the market, while the types of performances have also constantly enriched, new forms of performances such as small musicals and immersive plays has gained popularity among young people. During this process, the performance space of "theatre" is also becoming smaller and smaller.
Small theatres are scattered on every city corner, providing young people with ideal places for a spiritual break. Going to see a 2-hour-long drama has become a new and fashionable way of after-work entertainment. By 2021, an average of 67 performances of different genres were shown in small theatres every day in Shanghai.
Famous theatre director Shengchuan Lai says that the drama is "we are in the room together, breathing together, brainstorming and exploring life together. We need theatre because we need to connect people". Based on the current situation of the Chinese theatre market and the tendency of audience preferences, we have summarized a few new features of Chinese theatre performances.
1. Private Small Theatres are Thriving
The size of small theatres usually ranges from 200-400 seats. Compared to larger productions, small theatre productions have a freer and more innovative style of performance, yet the standard of production does not diminish as well. Many well-known plays, such as "Hamilton" and "Rent", were started in small theatres and gradually succeeded before eventually transferring to the stages of Broadway theatres. Therefore, small theatres have long been regarded as "pioneering", "experimental", and "young". A large number of future theatre talents and excellent original theatre productions have been cultivated in small theatres.
The first small theatre production in China was Absolute Signal(1982) by director Zhaohua Lin at Beijing People's Art Theatre. The first director who successfully combined small theatre drama with the commercial market was Jinghui Meng, whose 1999 play Rhinoceros in Love, written in collaboration with his wife Yimei Liao, can be regarded as the most successful small theatre play in China. In 2008, Jinghui Meng set up his private small theatre, Fengchao Theatre, in Beijing. Afterward, the Fengchao Theatre opened as a brand to Hangzhou and Anaya, driving the local theatre and cultural consumption market.
Similar to the Fengchao, most small theatres are positioned brands, IPs, or multi-cultural spaces. When choosing the location, small theatres can have more options such as old mansions, art galleries, scenic spots, and shopping centers. Small theatres are embedded in citizens' lives and resonate with urban development. According to existing data, by 2022, there are 1,156 small theatres with less than 500 seats in Jiangsu Province, with a total seating capacity of 250,000.
2. Transfer TV dramas to Stage performance + Strong Casts = Success
The boom of the variety show Super–Vocal and its 36 contestants, affectionately known as the Meixi Lake Boys in the program, have brought new fans and attention to the niche musical theatre market.
After Super–Vocal, in addition to the resident actors of private theatres, many stars and celebrities have also been involved in the production and performance of dramas. Examples include Dong Jin's The Disguiser, Bo Huang's The Island, male idol Yanjun Lin's Love You Forever, and so on.
Adaptations of novels and films have always been popular in the theatre market. In particular, fan-oriented theatre productions can help reduce the investment risk for theatre operators, resulting in more operators choosing to adapt strong IPs for theatre or importing strong IP theatre works from other countries.
However, the influx of fans into the theatre market can be a double-edged sword. Fans who are drawn to the theatre by celebrities and well-known IPs have a larger audience base compared to traditional theatre audiences. While this can lead to economic benefits and high attendance for dramas, it can also make it difficult for them to address any existing issues as their viewing space is crowded out by the fan effect.
3. Festivals and Moving Theatres: "Decentralization" Experiment of Contemporary Theatre
The concept of "moving theatres" has been promoted by smaller-scale theatres, which are short, touring, and lower cost. This concept is expected to be adopted more widely in the future as it is an important practice in theatres' decentralization. Moving theatres move away from grand theatres and constantly open up new venues and forms of performance. Play festivals are pioneers of moving theatres and experimental theatres. For example, the Wuzhen Theatre Festival was founded in 2013 by Lei Huang, Xianghong Chen, Shengchuan Lai, and Jinghui Meng, inspired by the "Fringe" section at the Edinburgh International Festival and the "OFF" section at Festival d'Avignon. The festival emphasizes audience participation in small theatres and provides opportunities for youth drama groups and student groups. In 2022, the festival included 18 youth competing productions.
Moving theatres and theatre festivals place greater emphasis on the "immersive" experience. Temporary theatres built during the festival can be seen as a "decentralization" of permanent theatres. For instance, in 2022, 60% of the performances in the Aranya Theater Festival were shown in outdoor temporary theatres, and some of them were even shown on cruise ships. This trend means that traditional theatres will be constantly weakened in the future. While moving theatres can reduce the investment risk of theatre operators and promote the development of drama, they also pose a challenge for drama audiences, as the fan effect brought by celebrities and well-known IPs can crowd out viewing space for drama audiences.
4. Theatre Economy is Expanding beyond Shows
Theatre performance in China is attracting more attention from parents as it provides a combination of singing, dancing, and acting, making it an ideal way for children to cultivate interests and enhance aesthetics while improving comprehensive abilities. This has led to a rise in drama training in the field of arts education, with courses specifically designed for children aged 6-16, such as the one launched by Beijing Tianqiao Performing Art Center to recruit musical troupes. The course content attracted nearly 100 children to sign up, with families from neighbouring areas also enquiring about the course.
Musical theatre courses for teenagers have also emerged in cities like Shanghai, Xi'an, Zhengzhou, Shenzhen, and Foshan. These courses include both popularization classes to cultivate young people's interest and musical training courses offered by arts training institutions to expand their business. As the theatre industry continues to grow, theatre consumption is extending beyond shows to include drama training, providing a new avenue for theatre lovers to engage with the art form.
In conclusion, China's small theatre production market is a vibrant and growing industry with tremendous potential. With a market size of around 30 billion yuan ($4.6 billion) and an annual growth rate of 20%, it is becoming an increasingly important contributor to China's cultural and economic development. As the industry continues to expand, it offers exciting opportunities for investors, producers, and audiences alike.