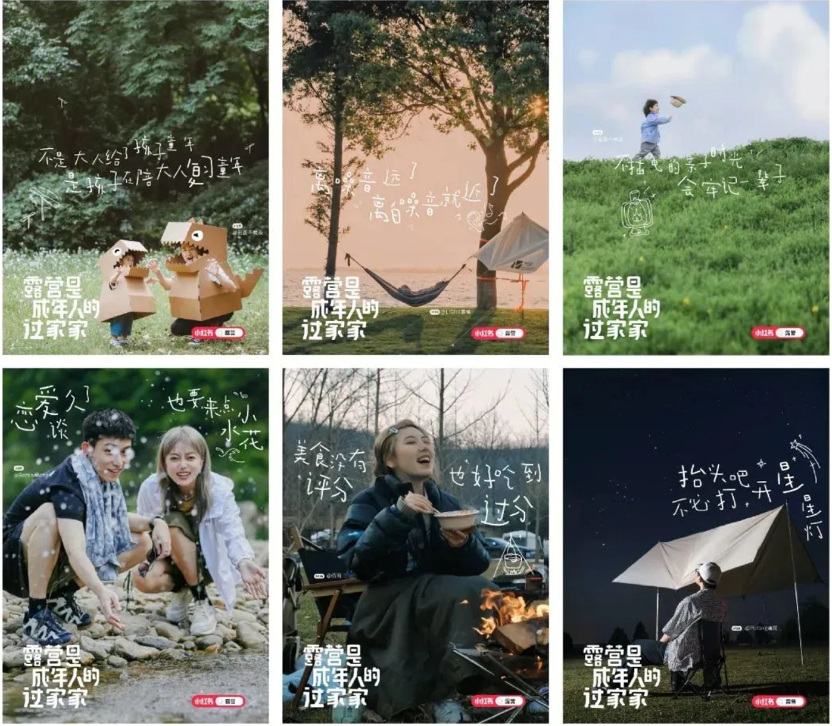 Marketing on RED (Xiaohongshu) in 2022, With Chillness and Affinity
Everyone's life has been caught up in a similar uncertainty over the past few years, but compared to the previous two years, this year's social mood is slightly different. There is some evidence that can be found through brand or platform communication methods, in this year, they prefer a more relaxing and comfortable way instead of the heavier campaigns before.
In 2022, the RED platform focuses more on mapping and guiding social emotions in user communication.
Camping Season in May: Camping is An Adults' Play House.
Uncertainty makes it more difficult to travel. But as the popularity of camping in and around the city continues to rise, the RED invited William Chan as a camping experience officer to create a special camping season this May. Through a "play house" advertisement and a group of camping posters, the creative concept of #camping is adults' play house# spread to users in different circles and pushed the topic of camping to a climax.
The lovely and kind copy in posters makes camping no longer a distant concept to ordinary people, but a simple and relaxing outdoor activity, creating an enjoyable camping atmosphere for urban youth.
Hiking Trip in August: Hiking is A Good Walk with Yourself
Although hiking becomes very popular this year, it is still an outdoor sport with a high threshold in public cognition.
This August, the RED has changed its narration, starting from the general public's definition of walking and the mood of people walking in general, using a "chat log" between Zhang Junning and herself and a set of hiking posters to create a soothing atmosphere to communicate with users about hiking, encouraging people to go into nature and explore their own voices.
Cycling Project in August: Cycling-Friendly Times
Cycling is no longer simply a means of transportation, but now gradually becomes a way to exercise for young people. People can easily explore a city on a bike and go for spontaneous trips on bicycles instead of traveling long distances. Thus, in August 2022, RED also launched the 'Cycling Friendly Times' project.
Instead of using cycling to express "life" ideas and attitudes, this project provided free parking services in conjunction with hundreds of shops, using the small kindness of daily life to create a cycling-friendly atmosphere in the city.
The Social Interactive Marketing Director of Himalaya comments that the cycling-friendly project is like a summer breeze, which is subtle, but makes you feel so good when it blows over you.
A chill communication strategy is the balance point between deep users and pan-users. Outdoor sports such as camping, hiking, and cycling may have already formed their own circle, which discourages newcomers for its professionalism. However, beginners who do not wish to pursue professionalism prefer outdoor sports for relaxation outside of work.
The target group of RED is not limited to deep players, but also to youth in first-and second-tier cities, in line with the community attributes of the RED platform. In the community of RED, users at all stages can be included, whether they are beginners or professional players, or players who want to advance.
"Close-to-nature" strategies help to attract the attention of outdoor beginners, and a core concept of "easy and fun" outlines users' imagination of outdoor activities and provides them with reasons to travel.
In November 2021, there were already over 220,000 users on the RED, sharing over 450,000 notes related to camping. In 2022, there has been an exponential growth of posts and searches on the RED for outdoor sports, represented by hiking, with an increase of 530% compared to 2021.
However, the chill communication strategy is only a superficial concept, behind which is the platform's precise targeting of audiences, as well as the tracking and voicing of social emotions. With a cup of coffee, a street shop, and an independent bookstore, the RED is also trying to soften the rigid social mood.
A Cup of Coffee in June: A Cup for You, It's Been a Long Time
From April to Jun, people in Shanghai have missed the aroma of coffee in addition to the Covid-19 testing and food snapping up. At the first moment of Shanghai's unblocking, the RED presented a cup of "long time no see" coffee to everyone, condensing the strong emotions into a greeting and using a cup of coffee as a symbol of everyone's return to normal life, which is heart-warming.
A Renovation Project in August: the Street Shops Support Program
When seeing the street shops that have lost their vitality after the unblocking, the RED has coordinated with the neighbourhood and the community, starting its "Street Shops Support Program", and renovating five street shops for free. At the same time, the RED also filmed a documentary to record the program. The renovation retained the harmonious atmosphere between the shops and the neighbourhood, so that warmth brought by street shops can be felt by more people.
Free Book Swap in November: Independent Bookstore Revival Plan
After helping street shops, the RED noticed the plight of independent bookstores in November. A community-driven offline activity of swapping books with 115 bookstores was carried out through the platform, connecting people and people and offline bookstores with books. Warm shimmer flowed between book exchanges.
Camping, hiking, cycling, coffee, bookstore, music, food ... RED focuses its marketing on a single product category, gathering deep users while spreading to pan-users, and finally, forming communities of people. In the community of the RED, life returns to life, and marketing can become more adorable.