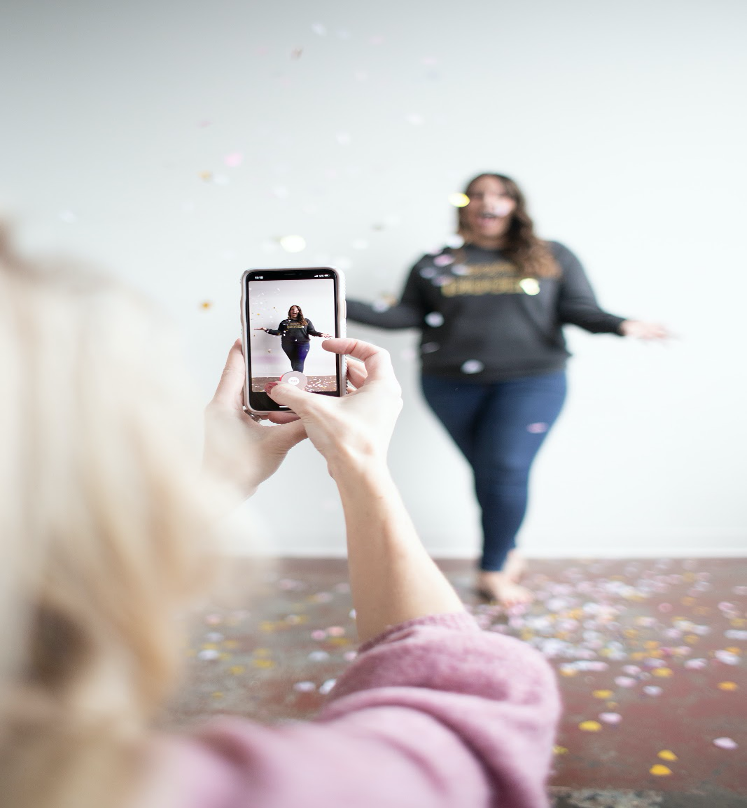 #Social Media Challenges
It is safe to assume that most people know about viral social media challenges like the recent wipe it down a challenge. These challenges have great potential to span across platforms and go viral.
TikTok users are constantly coming up with new creative ideas to keep themselves busy while staying indoors. The idea behind this social media challenge is simple. The video begins with you wearing one home outfit, then you wipe down a mirror, and appear in a new look, only to keep wiping and returning to your original home outfit while the song "Wipe It Down" played by BMW Kenny.
Therefore, if gaining more followers is your main goal, then you should participate in trending challenges and post those videos on TikTok.
#Trending Hashtags
Another way to instantly attract views on your TikTok videos or gain followers is to make videos on trending topics. You can do research for trending hashtags on TikTok and create a video on the same theme by using those hashtags. The main reason this strategy works is that you are following the popular trends and making videos that have a high probability of being viewed and liked.
#Dance Videos
Tik Tok creators are using this platform to showcase their dancing talent and often invite other people for group dance performances. If you have any dancing talent, then this type of videos will definitely be one of the best strategies to help you speedy gain more followers.
#Song Imitations
These are a variety of popular lip-sync videos popularised by TikTok, where people lip-sync to a song and even enact the lyrics. Sometimes they recreate a scene from the original video to make it more hilarious. Sometimes they give their own twist to it. Regardless of how you want to do it, be it creative or funny, lip-syncing videos of popular songs are a sure-shot way to get more viewers on TikTok.
#Dialogue Reenactments
Adding to the previous point, lip-syncing videos can also be made for famous movie dialogues. The most popular ones often have a comedic take and enact the dialogue in a funny way. You can try to find some popular movie dialogue, but it can be any random conversation.
You can do it alone or ask your friends to join you. Take a dialogue and reenact it in an interesting way to get more viewers.
#Cute Animal Videos
People love watching cute animal videos.
And some of us just like to make fun with our pets at home especially during the lockdown period or stay at home moments. Making some fun videos with your pet at home is going to create more engagement on Tik Tok for those who love to watch cute animal videos.
#Making Art
This one is for all the artists out there who want to showcase their talent on TikTok. Just record a video of yourself making an art piece, increase the speed, and post the video.
This works for all types of arts, crafts, and DIY projects. You can even record your friends or family members if they are the creative ones.
Doing something because "everybody else is doing it" is usually a poor source of motivation. But when it comes to strategically choosing social media platforms to engage with, we recommend following the crowd over to TikTok. TikTok can help expand the reach of your art towards an energetic and engaged fanbase.
#Tutorials
Tutorial videos are very popular on almost all social media platforms, including TikTok. However, given the short-form nature of TikTok videos, tutorials here are less detailed and mostly self-explanatory.
This means that you can make a quick tutorial showing all the steps of a process without commenting on it. You can also fast-forward the whole clip to fit a tutorial in the time limit.
#Workout Videos
Just like dance videos and tutorials, workout videos are also something that is popular on all major social media platforms. People love taking inspiration from their favourite social media influencers and copying their workout regimes.
Even if you are not in the fitness industry, you can still post your own personal workout regime to attract more followers to your account. People love to get inspiration for watching your workout video on Tik Tok!


#Food Or Cooking Videos
If you enjoy cooking at home and often do it at home then you can post your cooking videos on TikTok. It is not easy to fit an entire cooking video in a few seconds, but it's definitely possible to make it the creative way to show your audiences.
Just like with tutorials, don't add commentary and make your videos fast-paced and self-explanatory.
If you are not a cook, don't worry, you can still post videos of the food that you eat. You can add your personality to make your eating video more entertained for your audiences to watch your short clips. Who knows, they might follow you!