According to McKinsey's latest insights, from now until 2025, China's luxury consumption will almost be doubled, accounting for 3/4 of the world's new spending. What drives this growth is the explosive growth of middle and upper class families, who continue to buy luxury goods. Around 70% of consumers will buy luxury goods overseas, which is the result of the growing interest in outbound tourism.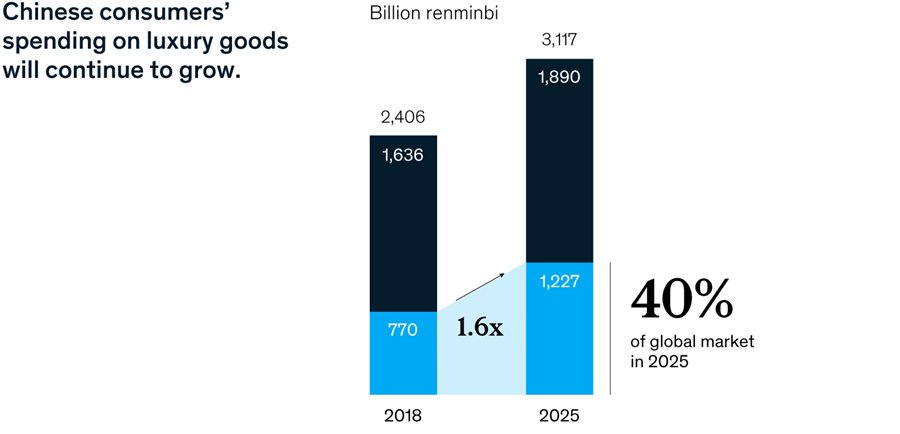 China's wealthy post-80s are driving luxury consumption, and the post-90s generation is a new source of power. There are four distinct groups of buyers among China's post-80s and post-90s. Luxury newcomers care most about brands, while status surfers have the lowest loyalty to brands. They together account for 70% of the young luxury market.






Then what's our action plan?
To participate in the competition in China's market, it is very useful to understanding the thoughts of Chinese luxury consumers and their connections with products. Below are 4 suggestions.
Go beyond brand investment
Although young consumers still have brand awareness, they are not as loyal to the brand as older consumers. They are more willing to take risks and gain new luxury experiences.





Young consumers are easily influenced by opinion leaders, who are usually international or Chinese celebrities. They talk about and display the goods they buy on social media and show personalized digital experiences.






When making purchase decisions, 9/10 of young Chinese consumers like to communicate face to face with the sales staff at brand stores. The brand needs to re-conceive the in-store experience. It is very important to cater to young consumers' desire for different experiences and values.