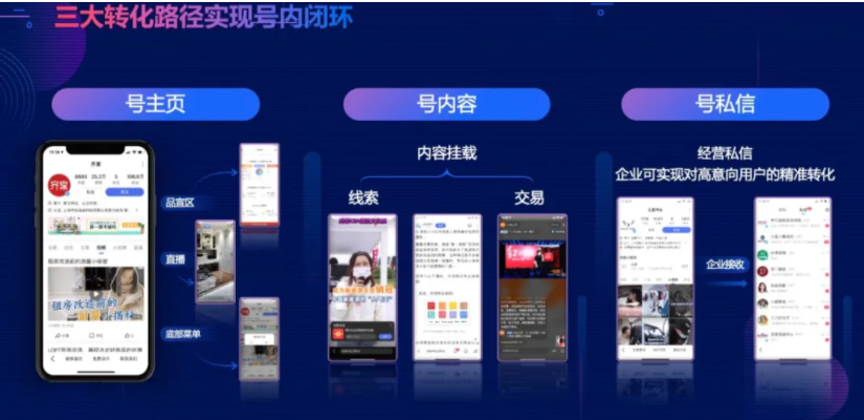 One of the major drawbacks of traditional marketing is to connect marketing and sales. Even if the marketing campaign makes a great impact in a short time, but the effort spent on the campaign plus the time spent on converting leads often doesn't bring ideal commercial to the business.

In the era of smart marketing, Baidu has further enhanced the brand marketing to make it a one-stop solution called "Baidu Baijia fo Business" (百度企业百家号). Baidu Baijia solution has become the key platform to measure the marketing efforts of the business's digital channel.

Brands that have been certified by Baidu Baijia account can access the multiple features of Baidu's ecological product matrix to create perfect marketing programs to boost sales.
Baidu Baijia to Sales Funnel
Baijia Business account can access Baidu big data as a "think tank". If you are the data person, you can have a smart insight into the world in Baidu. Through objective monitoring and analysis of all the content data, brands can quickly review the marketing process, track user behaviour, find marketing clues, analyze industry trends, and pivot the business progress in order to help brands to develop rapidly.
Baidu Baijia to Smart Mini-Program
This pattern of operation is to maximise the outcome by influencing user psychology behaviour. After the users were attracted by the brand content, they will subconsciously want to know more about these particular products. The company's Baijia account profile is like the company's reputation and the smart mini-program serves as the shopping guide, guiding users to understand more of the company comprehensively.
Baidu Baijia to Du Xiao Dian (Baidu Little Shop)
Duiaodian (度小店,Baidu Little Shop) is the perfect combination of marketing features to create an online shopping experience. Content marketing is designed to be more interactive with audiences. The ultimate goal is to achieve more sales by triggering the audience's motivation to buy. Baijia and Duxiaodian enable the brand to perfectly connect the marketing touchpoints and sales touchpoints. This is the new retail platform in the way where everyone can experience "what you see is what you get". It also successfully reduces the user's decision-making time. At the same time, with Duxiaodian, the brands can instantly convert users from "like" the product to "own" the product. It is helping companies achieve greater sales conversion rates.
Through the integration paths mentioned above, account content, and account private messages, in every scene connecting users, It can help companies achieve efficient transformation at different levels.
Over the years, Baidu has been continuously accumulating its marketing tools and combining them with it's evolving technology. With big data and AI, Baidu integrates the three core competencies of data - content, technology, and innovation, leading the new revolution in marketing. The launch of Baijia account for Business is one of the China market growth strategies which the brands are looking for.