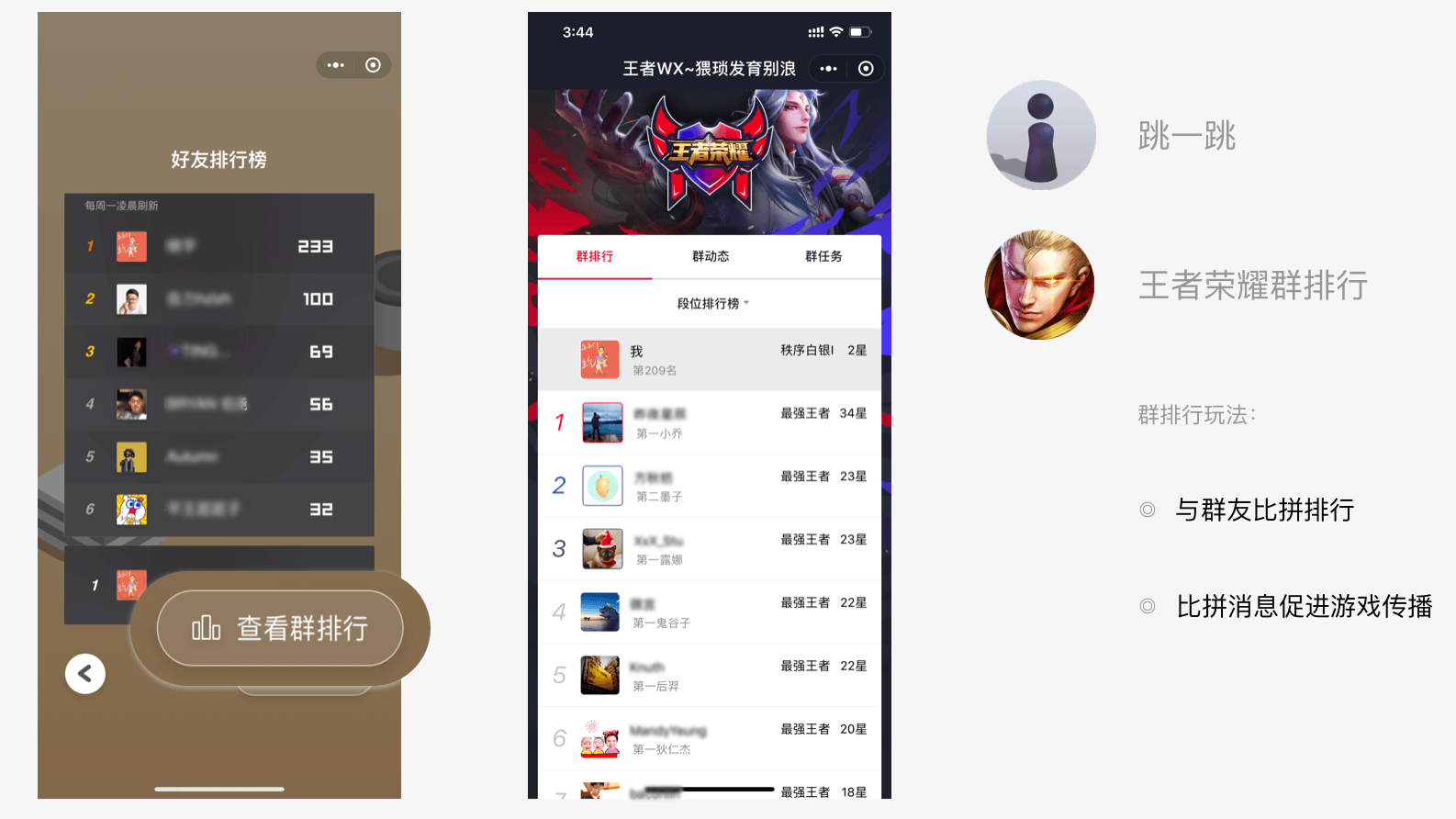 In the 600 days of growing together with small game ecology, wechat advertising has been committed to promoting the business cycle and encouraging high-quality content. According to the wechat advertising team sharing in the wechat open class on August 22, in the first half of 2019, the cumulative revenue sharing of small game developers has reached 1.1 billion.
In order to help quality games to further achieve large-scale and realization, wechat advertising launched "wechat advertising small games optimization cooperation plan" (following referred to as "optimization cooperation plan"), which allows developers to focus on producing high-quality game content, so that more wechat users can reach more high-quality game content.
01
33 days, accumulative division reached over 10 million
"Animal restaurant" is the first cooperation game of the preferred cooperation plan. The users of this animal theme nurturing game can play longer than the average playing time of the overall market, with good user potentiality and high-quality game content.
Previously, in addition to improving the game content, the "animal restaurant" team also needed to spend a lot of energy on operation and promotion, however, the effect was still limited. On the one hand, in order to obtain high-quality new users, developers have to pay high on error costs and labor costs; on the other hand, because the launch data cannot be attributed, it is difficult to fully tap the user's liquidity potential.
After 33 days of joining the "optimization cooperation plan", the daily active users of "animal restaurant" soared from 500000 to 5 million after receiving the promotion and realization services provided by wechat advertising team, and the average revenue per user (ARPU) increased by 50%. The accumulative division of advertising revenue exceeded 10 million, which was fully guaranteed in cost, benefit and scale.
So, how does "animal restaurant" realize the double advancement of users and income?
02
Advertising services
Exclusive buying strategy, daily active users add 10 times more
Previously, "animal restaurant" had a general understanding of user data as retention and active time, but due to the lack of refined analysis and game user operation methods, it was unable to evaluate the value of core users and guide the purchase volume, so it inevitably fell into the situation that promotion and realization could not be effectively linked.
After joining the "optimization cooperation plan", wechat advertising team with multi-dimensional data insight and rich experience in launching, combined with the platform oriented design of LTV prediction model crowd package, helps "animal restaurant" quickly find high retention and high value users. At the same time, through real-time observation of the purchase volume recovery rate, quickly adjust the bidding strategy, continuously obtain the target users of the game at a stable price.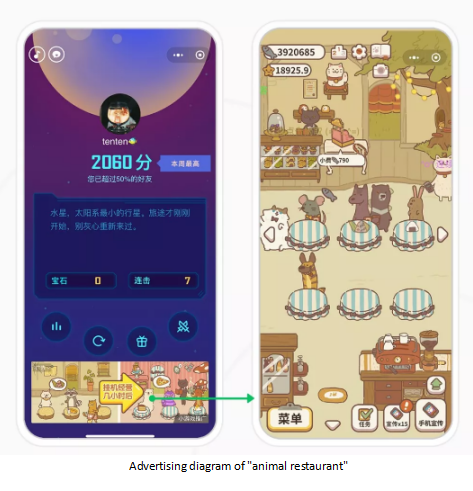 In addition, the wechat advertising team also uses the multi-dimensional promotion ability of wechat advertising to expose the advertising of "animal restaurant" to the field of high potential customers, and continuously introduce high-quality new users to "animal restaurant".
Through the comprehensive optimization of advertising materials, orientation, bidding, promotion channels and other aspects, wechat advertising game optimization cooperation plan soon made "animal restaurant" become "hot game", with a daily growth of over 10 times, and daily active users once reached 5 million.
03
Flow realization service
Refined operation, revenue sharing increased by 22 times
"How to set the exposure scene of different advertising components?" "Which users have higher ECPM?" These common problems bother many developers.
After joining the "preferred cooperation plan", wechat advertising team will provide more comprehensive realization exclusive services to "animal restaurant" to help it find the most optimal advertising combination scheme. First of all, wechat advertising team introduces more industry advertisers, enriches the advertising library ecology, and promotes the competition of exposure bidding. Then, according to the characteristics of animal restaurant, helping it optimize the scene of advertising access, for example, select high-value props to access higher value 30 second incentive video advertising, and improve user value output. According to the user structure, value data analysis and other ways, wechat advertising improves the proportion of high-value advertising users , and helps small games adjust the implantation mode of different scenes and different advertising components, and steadily improves the efficiency of realization.
Wechat advertising also through version linkage with the "animal restaurant" team, feeds platform data back into the game optimization strategy at any time, reduces the error cost, so that each optimization can be accurate and efficient.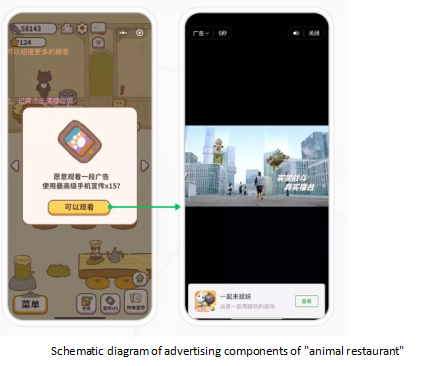 These systematic and refined adjustments and optimizations have helped the ARPU value of "animal restaurant" increase by 50% rapidly. The daily advertising revenue has exceeded 1 million RMB, and the accumulative division has exceeded 10 million RMB.

04
To Be a quality game and enjoy hosting service
In short, wechat advertising small game optimization cooperation plan is an operation cooperation plan with small game as the core and covering H5 and dual terminal apps at the same time. Games that meet the "quality game" standard are more likely to be favored in the selection of "preferred cooperation plan".
High quality games need to have two factors "excellent game quality" and "good liquidity potential". The selected high-quality game can obtain the promotion + realization integration service provided by wechat advertising team, which is guaranteed in cost, benefit and scale.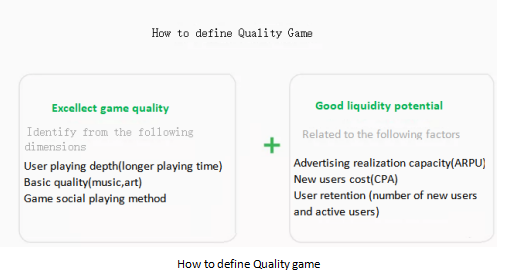 Through the "optimization cooperation plan", wechat advertising will provide more high-quality games with "hosted" services, so that developers can devote more energy to the research and development of high-quality content, so that more high-quality games would emerge and high-quality content can get more value returns. In the future, the realization of high-quality games will be more and more simple, and the ecology will be more and more rich.
Common Questions
Q:Joining "optimization cooperation plan", what customized services can developers get?
A:After joining the "preferred cooperation plan", developers can get 2 services:
1. Advertising promotion service: help cooperative small games to achieve large-scale services, quickly find high-quality and high-value users, and can be distributed across Tencent media, including not only promotion in wechat traffic, but also promotion in high-quality Tencent system media resources such as Tencent News, Tencent video, etc;
2. Traffic liquidity service: customized advertising liquidity solution provided by wechat advertising for cooperative games helps cooperative games find the optimal advertising combination scheme and improve traffic liquidity efficiency.
In addition, developers can also get three guarantees, including cost guarantee, benefit guarantee and scale guarantee, so that high-quality content can better achieve scale.
Q: How can my small game join the "preferred cooperation plan"?
A: Currently, the "preferred cooperation plan" is not available for application, and wechat advertising team will choose according to the standard of "quality game". Joining the plan requires two basic elements: "excellent game quality" and "good liquidity potential". Specifically, when the user of a game has enough depth of use (longer game time), good basic quality (better music and art), and can effectively play the social advantages of wechat ecology, it is a good quality game. The realization potential is evaluated quantitatively through specific indicators, including advertising realization capacity (ARPU value), new user cost (CPA), user retention (number of new and active users), etc.