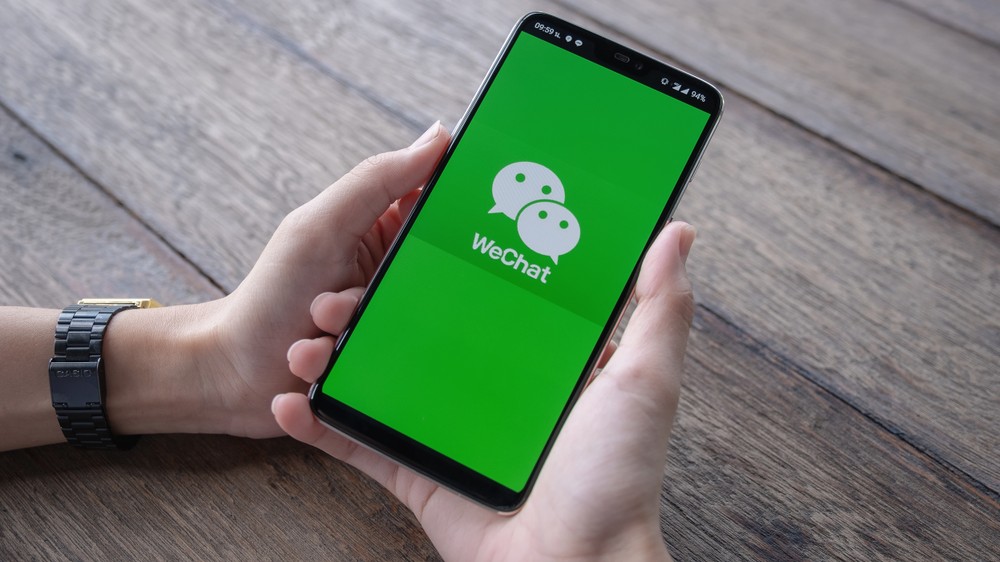 WeChat officially launched Mini-Programs on January 2017, the light apps that do not require download or installation, users can simply leave the application after use without the need to uninstall. By the end of January 2018, a total of 580,000 Mini-Programs were launched, involving one million developers, 2,300 third-party platforms, and embracing 270 million daily active users.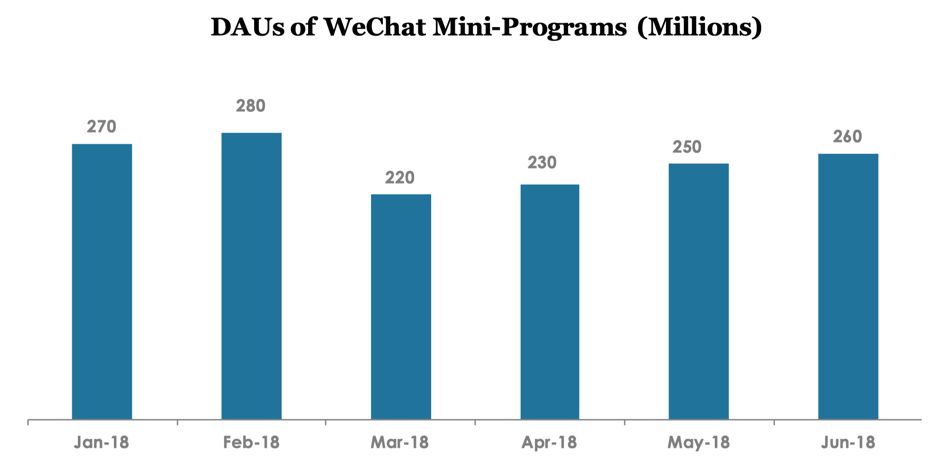 (Source: aldwx.com, aldzs.com, Jul 2018)
Time spent on Mini-Programs daily went from 1.6 minutes to 9.8 minutes by December 2017, accounting for about one-fifth of users' daily time spent on WeChat. Social interaction makes up the biggest element in the Mini-Programs, accounting for 14.39%, followed by Gaming and Education.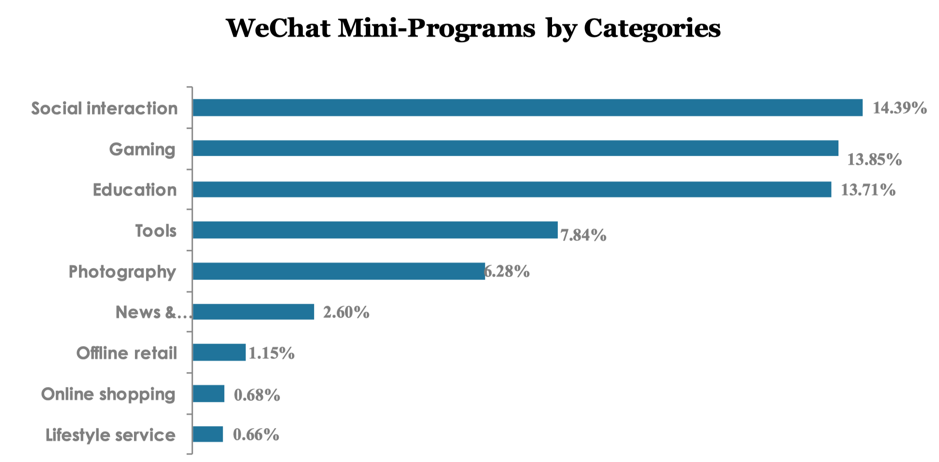 (Source: aldwx.com, aldzs.com, Jul 2018)
At first, the user retention rate of Mini-Programs slid from 13% to 3% in a week. In contrast, the user retention rate of WeChat Mini-Programs MiniGames "Jump" (Tiaoyitiao) was still as high as 52%. Later on, its 1-day and 7-day retention rates went up from 13.2% to 25.5%, 3.1% to 13.5% respectively.
WeChat Mini-Programs for E-Commerce
E-commerce Mini-Programs has astonishing performance in fresh food, maternal-infant care products, and fashion. Profited from Double 11 and WeChat, e-commerce Mini-Programs saw explosive growth of monthly average traffic in Q4 2017. In particular, the monthly average traffic of fashion Mini-Programs grew by 323%, purchase rate approaching 60%. The monthly average order volume of Catering MiniPrograms increased by 55% in 2017.
83.3% of shopping mini-programs in the top 100 have their own apps. Mobile shopping platforms hope to expand their user base through WeChat MiniPrograms, but ultimately entice users onto their apps long-term. WeChat mini-programs help drive traffic outside the freestanding apps. Pinduoduo, for instance, has more users (230 million) on WeChat than on its own app. KFC's Mini-Program has nearly 75 million users, while Meituan has nearly 50 million, and Starbucks has around 30 million.
Mini-Programs is enhancing its connection with offline. Especially during the time when e-commerce giants are promoting "New Retail", Mini-Programs becomes a core traffic source. For example, "Wanda Plaza" and "YH Life Plus" have connected with offline supermarkets.
WeChat Mini-Programs Mini-Games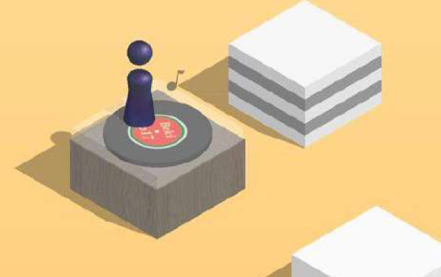 Jump (Tiaoyitiao) Mini-game
81% of WeChat Mini-Programs users have played Mini-Games. As mini-game "Jump"(Tiaoyitiao) was receiving huge popularity at the end of 2017, Wechat started Mini-Games internal testing as of March 2018 and continued to attract users with several faddish Mini-Games represented by pinball games. In April, 2018, WeChat officially released Mini-Programs Mini-Games. Up from April 4, 2018 till the end of 2018 , a total of 2,000 Mini-Games were released. 7Day retention rate reached as high as 45%.
Mini-Games see peak concurrent active users reaching 28 million per hour. Mini-games "Jump" (Tiaoyitiao) sold its advertising opportunity to Nike at 20 million yuan (US$3.1 million). And it's daily active users keep growing dramatically after been released.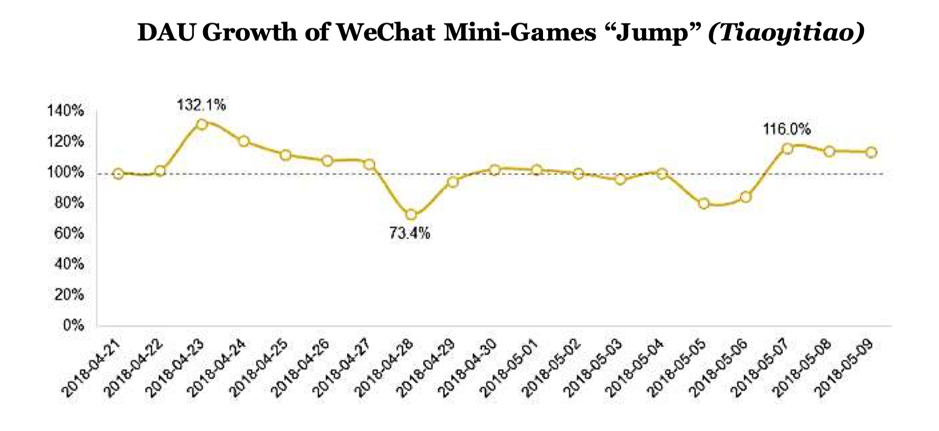 Source: QuestMobile Mar 2018
The population that engaged in Mini-programs are those middle-age people above 30 years old. And there's no difference between the two genders.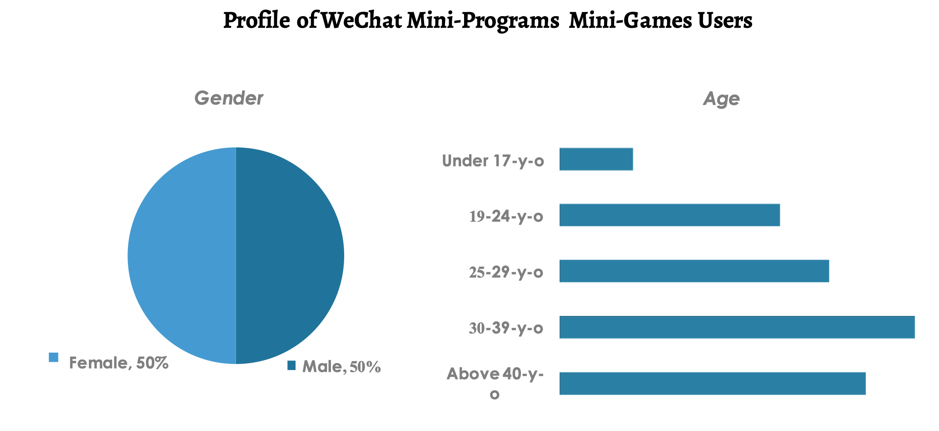 Source: WeChat, Jul 2018
Wechat also trying to expend its profit by launch the rewards video programme on Mini-Games. WeChat officially launched rewarded video ads platform for Mini-Games in May 2018. Advertisers can deliver rewarded video ads at specific Mini-Games scenes to boot their brand exposure.