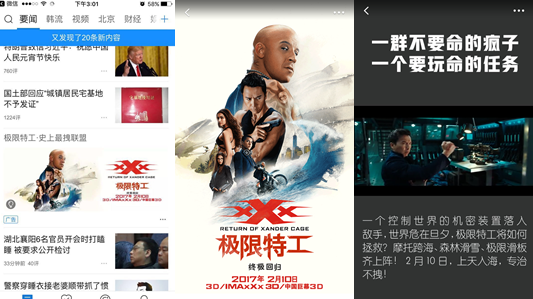 Tencent News App officially launched "full screen newsfeed ad". Paramount Pictures to promote the action blockbuster "xXx : Return Of Xander Cage" to become the this first advertisers of this full screen newsfeed. Giant screen information flow ads with full-screen landing pages full-screen loading information flow form of advertising, can show a richer brand information for users with a completely immersive interactive experience, the real content of advertising that is the original experience.
Native immersive environment, dramatically increasing click conversion

The information flow advertisement of the giant screen matches the context characteristics to train the user's growth reading habit and update it dynamically in real time to maximize the instant interest of the user and enhance the users' click intention. The data show that the average click through rate can be increased by 20% and the average conversion rate by 15%.
In addition, the giant screen information flow also by deciphering the user's brain, with creative material to achieve brand marketing mind reading. In the process of pushing to the user, matching user interest tags, sub-material-oriented precise push. Really reliable creatives can lead to better CTR conversions when combined with user scenarios.
In the form of display, the client navigation bar completely disappeared, the user to view the full-screen ads, show more details, you can feel the brand concept.
Rich form more details of speed show, per capita stay longer than 60 seconds
In the content composition, the giant screen information flow has a wealth of use of the module, including pictures, video, text, panorama pictures, multi-map module and button templates, called the brand MINI official website, can achieve advertisers unlimited creativity. According to closed beta, native ads pages per person stay more than 60 seconds.
More importantly, despite the huge variety of information flow in the form of advertising information rich, but can achieve no pause of the speed loading, loading speed compared to mobile web increased by 10 times, users do not have to wait to load, and a key to jump Go to the brand electric business page, realize the seamless communication with the brand.