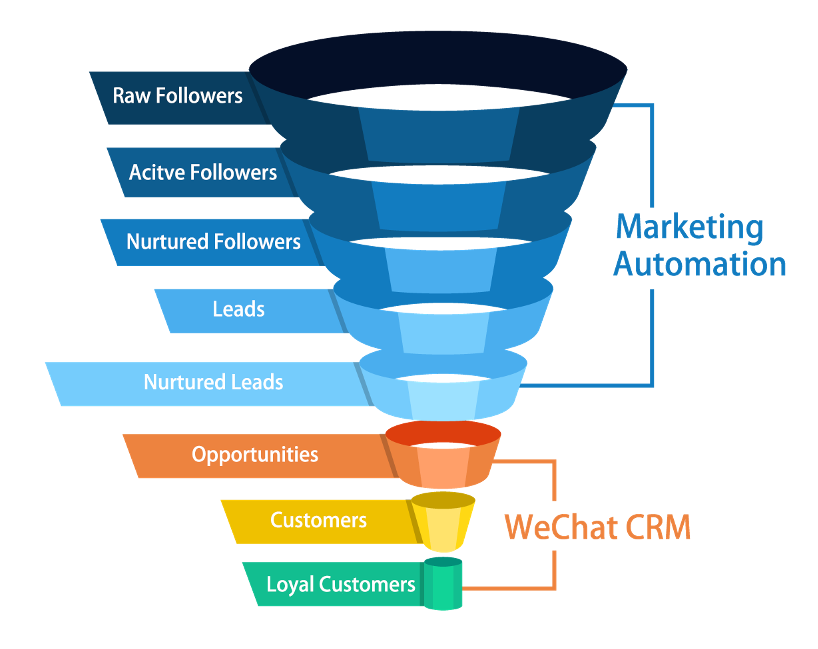 What is SCRM?
SCRM refers to Social Customer Relationship Management, as an extension of traditional CRM, SCRM emphasizes consumer participation and bilateral interaction. Consumers no longer exist statically as consumers of simple goods (services) or property owners, it exists more as a brand follower, listener, proponent and co-creator. SCRM makes users have a sense of belonging, interest and achievement; Interactive bilateral relations, so that the needs and ideas of consumers are closely combined with the development of brand positioning. Brand and consumers are really integrated.
Why does SCRM get attention?
We combed several head enterprise WeChat SCRM products to provide some reference and help for businesses with SCRM product selection needs, and also help you better understand the role and significance of SCRM in owned media.
At present, the main functions of the mainstream SCRM in the market include four sections: Acquisition, Engage, Activation, Retention. However, due to different targeting audiences/users, focused industries and competitive advantages of different products, buyers should recognise the difference between different industry scenarios.
EC SCRM (https://www.scrm.com/)
EC SCRM, invested by Tencent & UFIDA, is a social CRM system that provides one-stop digital marketing solutions for education, finance, Internet, technology, health and other industries. EC SCRM launched a new "marketing material" applet, which is a WeChat product material library tailored for enterprise WeChat marketing, providing more ways for sales to connect customers. At the same time, the "marketing material" applet supports one-click forwarding of official website information, product video and smart business cards to WeChat, so as to strengthen the interaction with users and improve the repurchase rate through WeChat.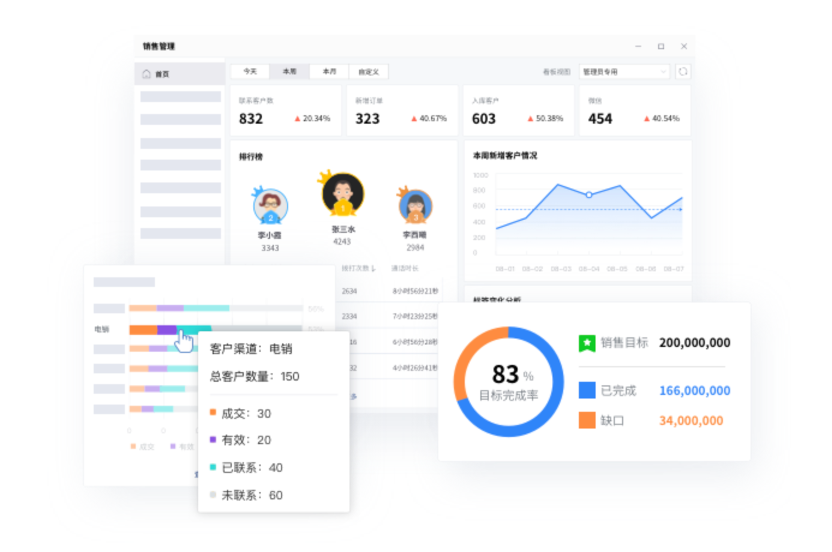 In addition to the "marketing material" applet, EC has also opened up the enterprise WeChat. Through the integrated operation scheme of owned media traffic of EC, it has realized the real-time synchronization of customer data and customer WeChat dynamic track. It can contact WeChat customers with one click, improve user portrait, trace the whole communication track, precipitate customer relations into the company's digital assets, and build a client database, avoiding the loss of customers when employees leave.
Tencent Qidian SCRM (https://qidian.qq.com/)
Tencent enterprise point is an enterprise SaaS service officially owned by Tencent. It is based on enterprise QQ and marketing QQ. It provides solutions for the whole process of marketing, sales, operation and service. It can be used alone or in combination and is suitable for enterprises of all sizes. Tencent enterprise point has a social CRM suite, and its core functions include enterprise point customer service, enterprise point marketing, enterprise QQ 2.0 (collaboration), etc.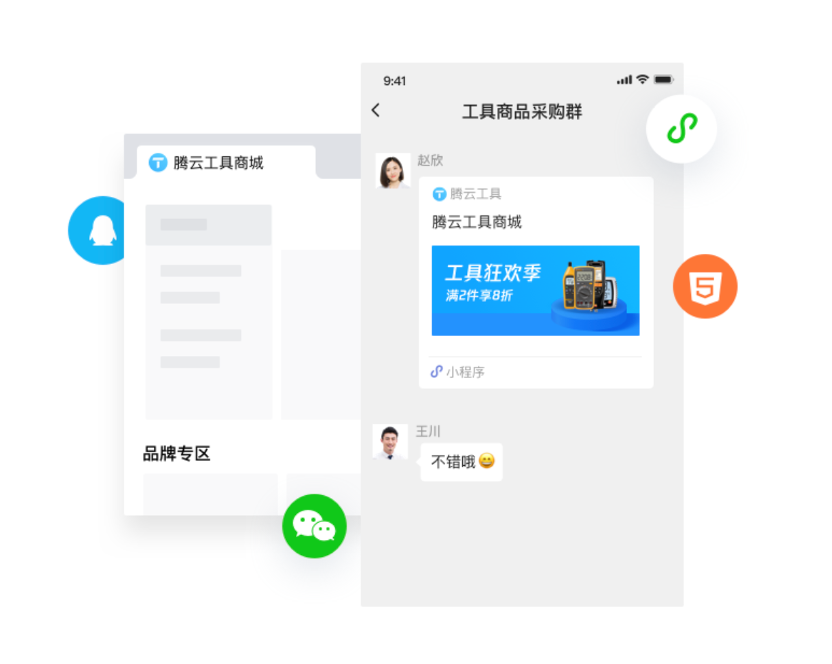 It is worth noting that in order to do a good job in the owned media, it is very necessary to get through various tools and underlying systems within the enterprise. Otherwise, it is easy to form a data island, affecting all aspects of owned media marketing such as user portrait and accurate operation. At present, in view of the interface opening problem that enterprises are generally very concerned about, Tencent enterprise points have the relatively perfect opening ability, which can seamlessly connect with various existing key business systems, including customer relationship management (CRM), enterprise resource planning (ERP), supply chain management (SCM), human capital management (HCM), financial management (fin), business intelligence (BI), etc.
Weiban Assistant (https://weibanzhushou.com/)
Weiban (Micro Partner) assistant is a marketing SCRM third-party tool based on enterprise WeChat. It mainly provides owned media traffic solutions based on WeChat and enterprise WeChat for retail, education and other industries. At present, it has served more than 100000 enterprises.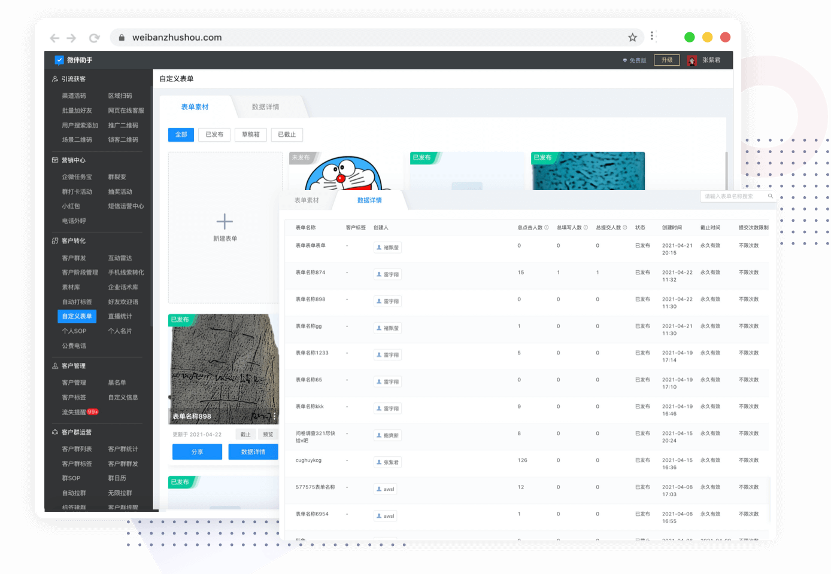 The core functions of the micro companion assistant include batch addition of friends, channel live code, customer portrait, label group building, group SOP, loss reminder, etc. it can realize multi-channel touch drainage, all-around customer management, refined customer group operation, high sensitivity risk control, etc. At the same time, the micro-partner assistant supports multi-platform data access, including order import of platforms such as Taobao, gossamer, Youzan, Weimeng and enterprise-owned malls, as well as real-time synchronization of high intention customers provided by Yizhi. Enterprises can also realize the data exchange between their internal systems and enterprise WeChat through WeChat API.
Weisheng (微盛)(https://www.wshoto.com/)
Weisheng is strategically invested by Tencent and Sequoia and belongs to the enterprise WeChat service provider together with the WeChat assistant. Enterprise WeChat housekeeper is an enterprise WeChat customer operation product independently developed by Weisheng, which provides enterprises with a one-stop enterprise WeChat customer operation solution. The product has been put on the shelves in the enterprise application market and Tencent cloud official website. Compared with other micro SCRM service providers, Weisheng has a closer relationship with Tencent. It not only deeply cultivates the WeChat ecology but also has more in-depth cooperation with Tencent at the levels of business opportunity transformation, technology and resource sharing.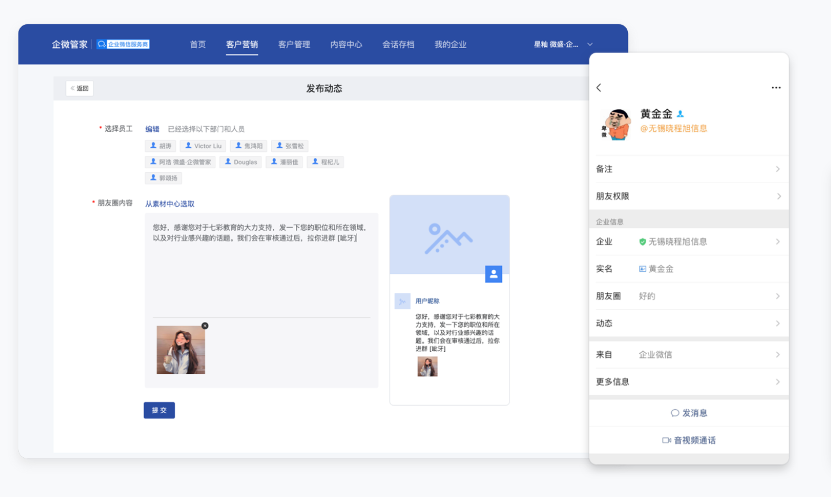 Enterprise micro housekeeper provides customized & privatized solutions, including personalized function customization, privatization deployment, session archiving privatization deployment, API open docking and enterprise WeChat privatization deployment, so as to better adapt to enterprise business needs, ensure enterprise information security and compliance, open up enterprise existing applications and data systems and improve enterprise office efficiency.
Chenfeng SCRM 尘锋 (https://www.dustess.com/)
CHENFENG SCRM is a one-stop customer management platform. Aiming at the pain points of enterprises that are difficult to retain customers, difficult to manage sales, difficult to screen customers and low communication efficiency, opens up the whole sales process and improves innovation and repurchase. At present, CHENFENG has reached cooperation with 30 + industries and 10000 + enterprises. CHENFENG's solutions are mainly for medical beauty, FMCG, education, catering, insurance and other industries, among which medical beauty is the key field of CHENFENG's SCRM services.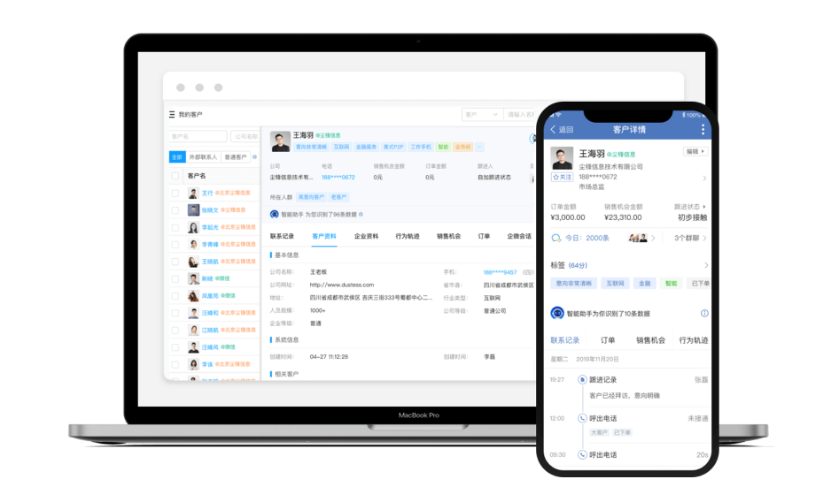 As we all know, there are pain points in the medical and beauty industry, such as difficulty to obtain customers, expensive to obtain customers, low trust and long cycle. It is not easy for enterprises to do a good job in the owned media. With the help of CHENFENG SCRM, enterprises can add customers' WeChat friends through enterprise WeChat, precipitate customer resources at low cost and high efficiency, quickly use professional medical beauty materials and professional scripts, enhance user trust, manage the whole life cycle of medical beauty customers, and trigger different SOP operations for different behaviours and stages, so as to improve transformation and repurchase.
Tanma SCRM 探马 (https://www.tanmarket.cn/)
Tanma SCRM is a full process owned media traffic operation tool based on enterprise WeChat. Its main functions include chat record viewing, customer follow-up record, multi-channel customer drainage, group SOP, group calendar, customer segmentation operation and maintenance. At the same time, Tanma has created an integrated sales service system and opened up the whole process of sales management, customer drainage, customer follow-up, customer management and group operation.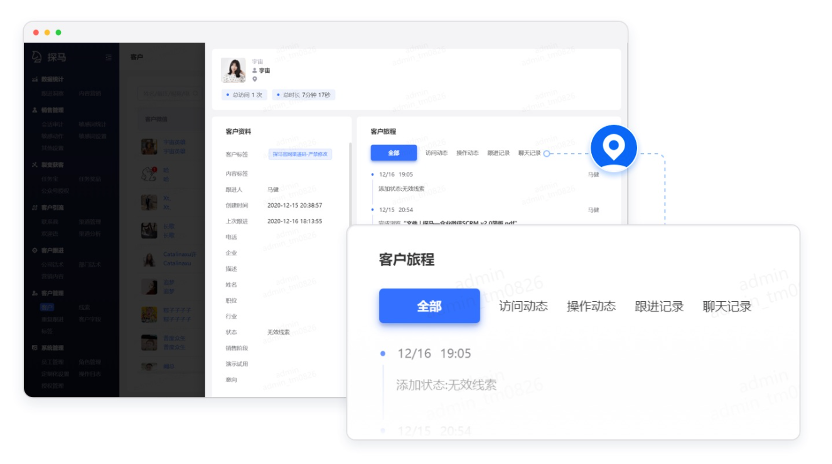 From the perspective of function, the difference between the SCRM software, they have both similarities and differences. Among them, education, retail and the Internet are the more focused scenes of micro SCRM, which are also several pioneer fields with mature business development. Each enterprise should choose the "right" enterprise micro SCRM tool according to its own industry, deep cultivation scenario and own needs, so as to avoid blind trial and error and get twice the result with half the effort.
Parllay 烽火台 (https://www.parllay.cn/)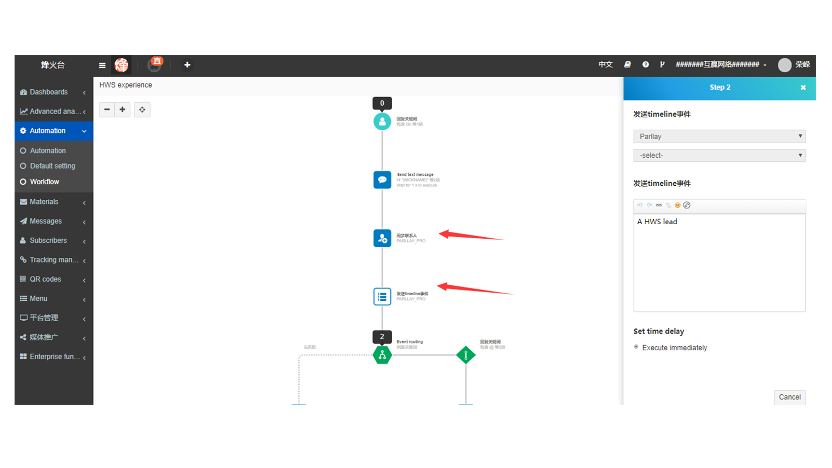 Parllay is a Chinese SCRM and marketing automation platform, which builds the WeChat official account as it's core, opens up the owned media of mini programs, websites and WeChat Business accounts. Parllay Identifies sales opportunities within wechat CRM, improves the conversion rate of "attention registration purchase" with marketing automation, makes scientific decisions with user-defined data, and accelerates the growth of owned media. The platform also fully integrates with Hubspots which enables the brand to map a full website-to-social media users journey.
Why do businesses invest more into owned media?
1. Reduce customer acquisition costs
Under the background of traffic shortage, public traffic is becoming more and more expensive, traffic competition is becoming more intense, and the cost of obtaining customers is rising. Whether in order to obtain new customers or improve the repurchase of old customers, it is becoming more and more urgent and important for businesses to build their owned media's traffic pool. It can not only enhance user retention and stickiness but also reduce the cost of getting customers and make up for the shortcoming of getting customers in the public traffic pool.
2. Mining the value of users' whole life cycle
The social interaction attribute of the owned media can promote efficient transformation, high-quality fission, continuous repurchase, and tap the value of the user's whole life cycle, so as to help businesses break through the growth bottleneck and achieve sustainable new growth.
3. The epidemic has accelerated focusing on owned media
The offline business district suffered a heavy blow last year, and all kinds of clothing stores, restaurants, cinemas and other physical businesses were depressed. However, the epidemic has also released new opportunities, accelerated the process of marketing digitization in all walks of life, and businesses have an increasingly strong awareness of enhancing owned media.