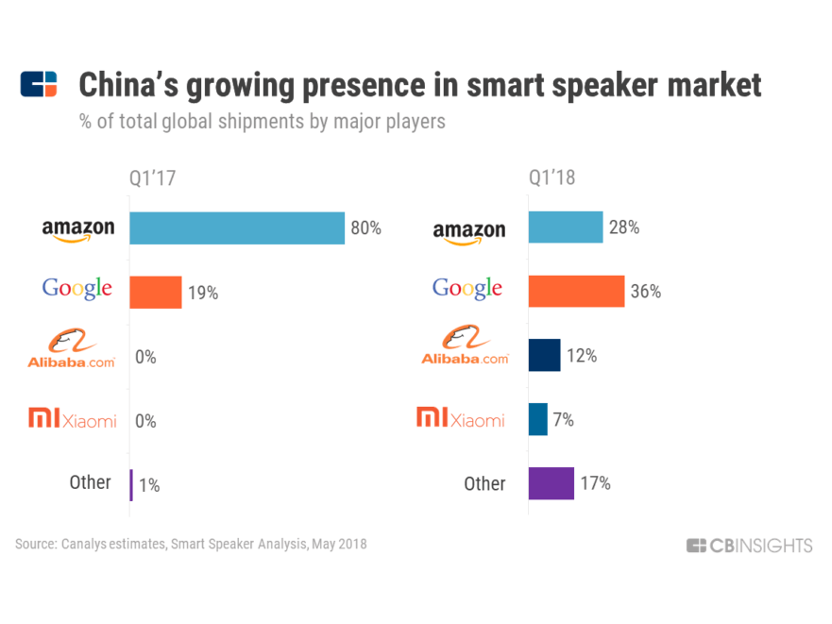 What Is Voice Commerce?

Voice commerce is a process that enables users of smart devices to conduct trade online using their voice commands. The main focus of voice commerce is to ease the buying process and provide an alternative to using a keyboard and a mouse to order and purchase products online. With the help of voice commerce, completing a purchase becomes faster and can be accomplished at any time throughout the day- even while taking a shower, if your voice assistant can hear you.
Understand The Voice Market
Clearly, the voice market is a vendor market, meaning that companies like Alibaba & Baidu are making considerable efforts to convince customers about the usefulness of their products.
Let's have a closer look at how these companies are adapting v-commerce to increase their profits as well as for delivering the best services to their customers.
Amazon dominates the voice space when it comes to smart speakers. Echo is a brand of smart speakers developed by Amazon, which comes with an inbuilt voice-controlled personal assistant – Alexa.
Baidu wants its DeurOS platform to be the dominant conversational AI software across the globe, competing directly with Amazon Alexa. In Q4'17, Baidu launched a smart speaker called Raven H, which gets its name from AI assistant startup Raven Tech that Baidu acquired last year.
While Baidu speakers run on its conversational AI platform DuerOS, the company has relied on outside partnerships for hardware design. Raven H partnered with a Swedish company called Teenage Engineering to create a speaker that looks unlike any other in the market.
Baidu also acquired US-based natural language processing campany startup Kitt.ai last year, which was previously funded by the Amazon Alexa Fund.
Almost every Android phone comes with the functionality of Google Assistant. Google Assistant is the AI-powered super-responsive voice assistant developed by Google, help its customers operate most of their tasks using just voice.
Assistant – Google Assistant
Google presented its Google Assistant platform as an app for Android devices, which later became available for iOS devices as well. At the same conference, they introduced the Google Home smart speaker, which had Google Assistant built-in.
Google Assistant is considered to be one of the most accurate and most responsive voice assistants among the competition. The assistant can understand two commands simultaneously which gives it a boost when it comes to v-commerce.
The functionality of Google Assistant was further enhanced when the company launched Duplex, an AI-voice which makes reservations and buys services on your behalf with you just instructing Google Assistant to do it.
Like Google's Duplex, Chinese internet giant Alibaba has its own humanlike voice assistant capable of making restaurant reservations and salon appointments.
Voice Assistant – AliGenie
Experts have pointed out that in the space of a 30-second conversation, the voice assistant has a great capability to handle three common problems for conversational AIs. These skills are difficult for most modern AI voice assistants to handle. Alibaba has also invested heavily in offline stores and big data capabilities in an effort to capitalise on the entire supply chain as part of its retail strategy, just like what Amazon did.
Every iPhone and other smart devices from Apple are equipped with its voice assistant – Siri.
Assistant – Siri
The voice assistant currently understands over 21 languages which give more options to the non-English speaking users to get their hands on voice commerce.
Challenges To Voice Commerce in China Marketing
With a screen, you can show facets and filters. When you're getting results by voice, it takes more time for a person to be able to ingest. According to current data, even though 39% of shoppers trust the product recommendations they get from virtual assistants, most of them want to see a new product before they buy it. The online challenge is to give an exhaustive and compelling product description that doesn't require you to pick up your phone or laptop and look at the product before buying.
For as much as people seem to like their voice-activated devices, there's also been a massive backlash around them due to privacy concerns.
75% of consumers in a recent study, say that they're concerned that such a device could get hacked and 51% say that they're uncomfortable sharing their personal information with a voice-connected personal assistant or a chatbot. The privacy issue is one of the top reasons people don't want to have a smart speaker in their home or interact with a voice assistant.
Consumers communicate with virtual assistants naturally, as they would speak to a real person. The words you use in a typed search query differ from the way you might speak the same query in real-time. The fact that users speak to virtual assistants naturally also means that businesses need to adapt their SEO strategies for voice search. Companies need to make sure their product descriptions include words that will match up with how people use voice search to find items they are interested in.