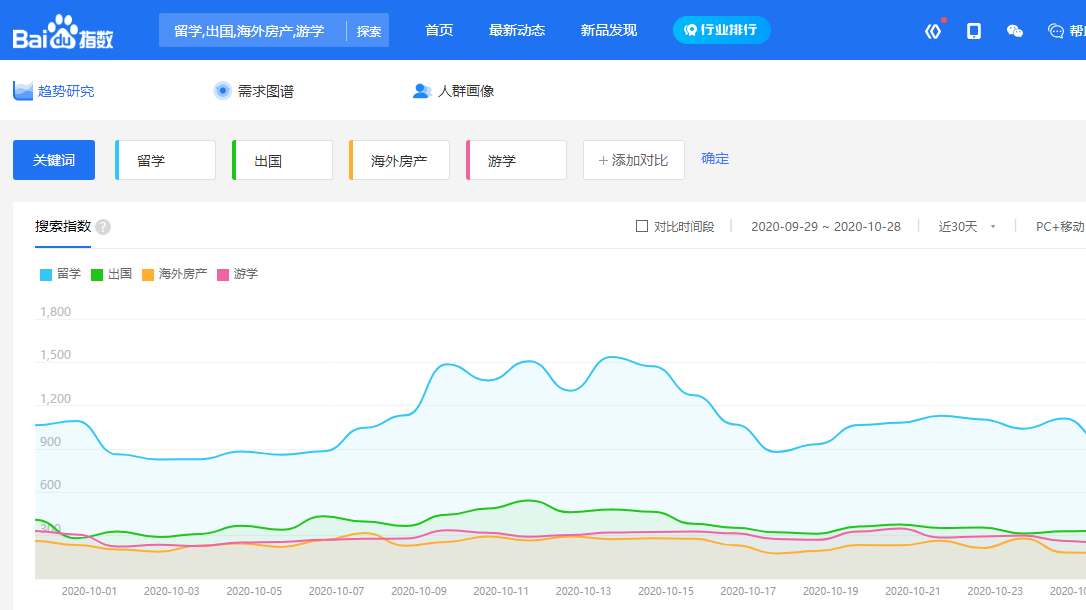 According to the research, the Chinese search engine world is dominated by Baidu with a market share of 70%. But for your business page to appear on the search results pages (SERPs) of this popular search engine, you must implement a smart SEO strategy. This includes keyword research based on the search trends of internet users on Baidu, as well as Baidu indexing your website on the search engine itself.

In this article, you will learn about how to navigate Baidu Trends and how to speed up the indexing of your site on Baidu with the Baidu Webmaster Tool. In addition, we will tell you everything else around this trendy topic that you must know, in order to boost your business organically on Baidu.
1. Baidu Zhishu (Baidu Index, 百度指数)
First of all, Baidu Index (Baidu Zhishu) shows which search terms users entered. Therefore, it reveals trending data based on consumer searching behaviour. Business can explore this tool to better understand the market insight and your target audience.
You can follow the search trends or identify your individual niche keywords and phrases over a period of time. On top of that, you can also analyze and evaluate search queries, and set filters like region or demographic.
Keep in mind that the displayed search volume of certain keywords on Baidu Index is relative and only shows trends. According to industry experts, doubling this number equals the actual number of searches.
A) Baidu Historical & Forecast Search Trends
Find out how interest in a search term/keyword has changed over time. You can filter by region, time schedule, and by the device. Besides, you can compare up to five keywords and their trending data.
Screenshot: Baidu Index
Screenshot: Baidu Index
Next, let's look at another trend.
B) User Interests & Needs
This graphic helps you to better understand the concerns and needs of users through extended and related interests. The closer an extended keyword is to the core keyword, the higher the relevance of it.
Screenshots from Baidu Index: Keyword 微信 (WeChat)
Next, we can evaluate related searches.
C) Related Searches
Here, you will find the top 15 related search queries by their search popularity. This way, you can identify competitors and gain further insights into the needs and concerns of your target audience.
Screenshot: Baidu Index
This is particularly interesting for foreign companies aspiring to enter the Chinese market. They can get an idea of consumer interests and industry dynamics.
D) Interests by Region
This search allows you to filter according to geographic region. For example, you can choose the top 10 provinces that generate the most search for a specific term. Click on any region/province for a deep dive into the parameters there.
Screenshot: Baidu Index
For example, if your budget is lower or your brand is new, you can start promoting your business in key regions to build your brand awareness.
E) Demographic Data
This provides a demographic overview of the audience, including age and gender. With this, you further break down your target audience and customize your online marketing strategy.
Screenshot: Baidu Index
Next, let's look at how to go beyond trends for keywords. Find out how to research and analyze keywords for Baidu in detail.
Extra Tips for Your Better Results on Baidu
To boost your business rankings on the Baidu search engine, we also recommend to utilize the following tools:
Baidu Tongji (Baidu Analytics)

Baidu Ads Manager (for Baidu PPC)
Let's look at these in more detail.
1. Baidu Tongji
Baidu Tongji also known as Baidu Analytics, this official Baidu tool is an analytic tool for business to justify website performance. Brands looking to build a presence in China online market can access the free data insight. For example, you can track traffic data of users visiting your site such as some of the important metrics: ad impressions, organic search and traffic. You can also create reports, and derive action steps for your China digital marketing strategy.
2. Baidu Ads Manager
Step up your search engine marketing game! Besides SEO, you can also utilize paid services (PPC ads) on Baidu.Similar to Google, PPC advertising in China is an effective way to generate leads, and increase your presence on Chinese search engines. Likewise, the Baidu Ads Manager (Editor) compares to the Google Ads Manager. You can make multiple changes quickly through practical functionalities like drag and drop or replace.
Summary
To sum it up, 93% of all online sessions begin with an internet search. This is typically a Baidu search in China or a Google search in the rest of the world. Therefore, appearing at the top of the SERPs with your online presence is the key to reach your audience and generate leads. This article will help you to get better insights of Baidu SEO and access the insight analysis to make the best outcome for your business in the Chinese market.