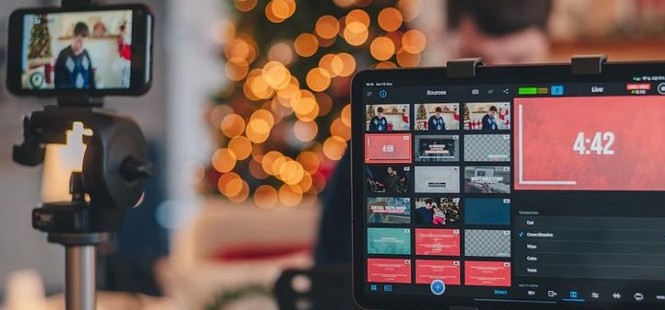 The overseas virtual YouTuber VOX made his first live show in China on BiliBili in May, and it was the top platform hit of the night. In 1.7 hours of live broadcast, the total revenue reached RMB 1.11 million, of which the payment rate of the live studio that night was as high as 73.3%. This ability to make money is far more strong than many popular stars.
In recent years, the concept of Meta-universe has skyrocketed, with various enterprises and platforms have made bets to involve in the virtual economy and increase their investment in the virtual Uploader industry. Livestreaming has always been regarded as the best channel for virtual Uploaders to monetization. As the virtual Uploader becomes more and more popular in the live-commerce, we would like to discuss whether its cooperation with e-commerce is a temporary "big thing" or a general trend.
Spending ¥10,000 to Broadcast 24/7
For small and medium-sized Uploaders, the "deciding factor" in live broadcasts is the length of their live shows. However, due to physiological limitations, the maximum working duration for a live-streaming host is about 5-6 hours. So, in order to ensure the overall length of a live broadcast, Uploaders usually take turns finishing the live-commerce shows.
But those virtual Uploaders can easily complete the "24-hour round-the-clock, non-stop" live broadcasts. Microsoft's official Tmall flagship shop has launched a "24-hour fully intelligent virtual IP" to display goods. Through continuous learning of the backstage knowledge base, virtual Uploaders can automatically introduce product information during the live broadcast, answering the questions and interacting with users independently.
There are suppliers in the market who provide such services. By purchasing customised software and post-operation and maintenance services from suppliers, 24-hour live streaming can be achieved by tens of thousands of yuan. A large number of brands, including Carslan, Proya, Perfect Diary, and other hot beauty brands have ordered such services to complement their live hosts. Meanwhile, virtual uploaders incubated by anime IPs and game IPs have also become the new clickbait. For example, characters such as Nie Gai and Wei Zhuang from the handheld game World of QinShi MingYue once appeared as virtual uploaders in the live broadcasting room, attracting a large number of fans to watch them.
In order to ensure the live effect, most live rooms will choose a model of "real person + virtual uploader" for live broadcast, but at this stage, there's still a large gap between the virtual uploaders' live-commerce performances and the real uploaders'. A popular virtual uploader "I am Bubuchi ", who has more than 22 million fans on Tik Tok, entered the live-commerce in March 2020, and has achieved cumulative sales of ¥10,889,900 yuan through 37 live broadcasts in three months in 2022. But compared with Yonghao Luo, a famous uploader in Tik Tok, "I am Bubuchi " single live sales only reached about 4% of Yonghao Luo.
Trust and Professionalism are the Only Solutions To Live E-Commerce
Technology is always enhanced when talking about virtual uploaders. Thanks to the development of artificial intelligence and 5G, AR technology, real-time motion capture, and facial capture technology are widely used in the live broadcast scenario of virtual uploaders. However, due to the limited development costs, the interactive experience of virtual uploaders now is not as smooth as that of real people. In the 2022 New Digital Intelligence Consumption Trend Report, 47.5% of the users who participated in the survey thought that virtual uploaders were "not very interactive and practical", and 46.1% of the respondents thought that virtual uploaders were not "friendly and vivid enough". As it turns out, the defect of interactive ability makes virtual uploaders play a limited role in the field of live broadcast e-commerce that requires strong interactive ability.
Take the head uploader as an example, Yuchen Zhu, the operator of "I am Bubaichi", has professional food knowledge and 6 years of experience in comedy, besides, all content interactions between live broadcasts need to write in detailed scripts and even arrange for character voice. In contrast, there's no trace of script settings in Jiaqi Li's live broadcasting room, all of which come from spontaneous interaction with the audience, and this interaction can be extended outside the live broadcast.
Experience defects caused by technologies are only a small part of the problems. The inability to unify the uploaders, the goods and the consumption scenarios is the biggest problem for virtual uploaders in live-commerce.
In Jiaqi Li 's livestreaming channel, he affectionately calls his followers "all girls" or "piggy girls", while viewers also call Jiaqi Li by his nickname "+7", which shows that a unique communication field has been established between Jiaqi Li and consumers. Besides, Jiaqi Li also uses a lot of time in his live broadcasting to set up content such as Li Jiaqi's Little Classroom and Li Jiaqi's New Products Show, which can further build mutual trust with consumers through outputting more professional knowledge of product selection and high-quality content. Outside the live broadcast, Jiaqi Li even pays attention to the express delivery at the end stage of the e-commerce industry and launches an environmental protection activity together with logistics companies.
The key to making real live e-commerce irreplaceable from other retail models is not the price of goods, but the "scene experience" built together by the live room, hosts, and the goods selection. Uploaders represented by Jiaqi Li, have a long-established sense of product selection in the e-commerce sector, a strict quality control process, and active participation in public welfare and environmental protection, which meet the emotional accompaniment needs of users while building a trust-based consumption scenario. On the contrary, virtual uploader Luo Tianyi's team said they are still unable to figure out a goods selection logic suitable for Luo Tianyi after completing three live broadcasts.
For a long time, people can't stop the discussion about whether machines can replace human beings. Virtual uploaders are also sure to gradually grasp the skills of displaying goods in live broadcasting with more mature artificial intelligence technologies. However, the reason why live-commerce can bring such great social influence is not only for selling goods, but also the chain behind it, such as product selection, operation, and after-sales, which is difficult to complete through algorithm learning.
In contrast, it is more feasible to make intelligent virtual uploaders a useful supplement to real persons, releasing them to focus on areas that need more initiative. Jiaqi Li suggests that machines can help him to better collect and learn the needs and feedback of girls so that he can provide better products and services for everyone.
Adding a virtual uploader is undoubtedly a brand-new idea for live-commerce, but in essence, it is still playing the role of a shopping guide. The professional selection and emotional companionship behind it are essential, and the form is just a gimmick. Live-commerce's key to success is just like the offline business, which is good items, good prices, and good shopping experiences.