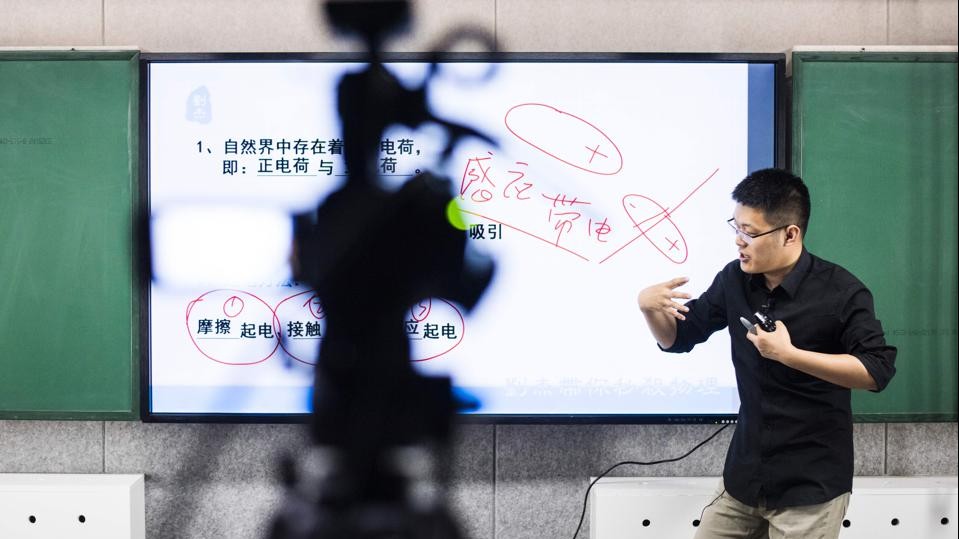 The COVID-19 epidemic has driven the continuous development of China's online education market.
After months of school closure, Chinese schools have finally begun to resume classes gradually in recent days. During the stay-at-home period, the schools have moved from classroom mode to online classes, which led to the vigorous development of the "edtech" (education technology) industry.
In recent years, China has carried out a comprehensive reform in the education market, including allowing international and private schools to serve as supplementary educational institutions for nine-year compulsory education in the public education system, which has promoted the rapid development of the private education industry.
Although the epidemic has had a serious impact on the economy, driven by the home shelter and quarantine policies, China's online education business has become one of the areas that have grown. Market research firm iResearch predicts that in 2020, the market size of online education will grow from US$37 billion in 2019 to US$54 billion.
Online tutoring is about to take off
Classes are not suspended even though the school is closed. Students who stay at home due to the epidemic still study hard to achieve good results. Therefore, the after-school tutoring market is developing rapidly. According to market research firm Frost & Sullivan, the current market size of China's after-school tutoring industry is US$64 billion and is expected to increase to US$70 billion in 2021, of which 10% (approximately US$4.4 billion) comes from online tutoring. At the same time, the company also predicts that the market size of online tutoring will reach $53 billion within three years.
One of the driving forces to promote the development of the tutoring industry is that most Chinese students have to take the highly competitive college entrance examination and the pressure from parents which hope their children can enter a first-class university. According to a study by JMDedu, a Chinese educational technology media platform, most families in major Chinese cities spend at least US$7,000 each year on their children's education.
Jeff Chi, a Shanghai-based venture capitalist and executive director of Vickers Venture Partners, said: "China's education market will undergo great changes, and educational technology will also be more widely used. "
Although China's total venture capital investment dropped to 49 billion US dollars in 2019, the local education technology market continues to attract venture capital investment.
In the past five years, China has led the growth of education venture capital, accounting for half of the total investment in the industry. A report by HolonIQ, a global education intelligence platform, shows that China's venture capital investment in education technology far exceeds that of the United States. In the first half of 2019, China's venture capital investment in this field was approximately US$3.5 billion. According to data from EdSurge, the relevant investment in the United States in 2019 was $1.7 billion.
More than half of the world's education technology unicorn companies are from China
Statistics from HolonIQ showed that as of the beginning of 2020, there are 8 out of the 14 education technology unicorn companies (that is, private companies with a market value of at least US$1 billion) coming from China. There is even an incubator focusing on educational start-ups in Beijing's Science and Technology Park.
In addition, the rapid development of the education technology industry can also be seen from the number of Chinese education companies listed in recent years. Since 2017, as many as 25 Chinese education companies have successfully gone public. Beijing New Oriental Education & Technology Group (New Oriental Education & Technology Group), which provides face-to-face tutoring courses, went public in 2006 before the educational technology boom.
China Online Education Group (51Talk Wuyou English), which was listed on the New York Stock Exchange in 2016, is the best example of the era of educational technology. The company's chief financial officer Xu Min said that the market penetration rate of China's online education is still very low, only single digits, which means that there are huge business opportunities in this field. After the outbreak of the epidemic, the revenue of China Online Education Group in the first quarter of 2020 is expected to increase by 40% over the same period last year. Xu Min predicts that the company is expected to achieve profitability for the first time based on the daily volume of up to 140,000 classes. "So far, our network system is sufficient to carry all the traffic." He said.
The highly competitive Chinese education technology market
China's education technology industry are booming, and the competition is fierce. Most companies use promotions and discounts to attract new customers and retain existing customers. However, these marketing strategies have significantly reduced the profitability of the company. In the capital competition, only the strongest companies can survive. Therefore, differentiation or specialization is the key to achieving long-term growth and profitability.
51Talk focuses on English education from kindergarten to high school, hiring Filipino teachers to provide one-to-one English courses for students in Shanghai, Beijing and other cities outside the first-tier cities.
VIPKid, a higher-priced Chinese startup, employs North American foreign teachers to teach English. In 2014, entrepreneur Cindy Mi officially founded VIPKid in Beijing, attracting more than 600,000 paying users, but the company still needs additional capital to continue its development. VIPKid has raised more than US$1.1 billion in huge capital from market-leading venture capital firms, with investment institutions including Sinovation Ventures, Sequoia Capital China, and Chinese technology giant Tencent.
Another well-funded Chinese educational technology start-up is Yuanfudao Online Education. The company was founded as a test preparation platform, and later transformed into a large classroom which consisted of a lecturer and multiple counsellors. Recently, Yuanfudao received huge financing of US$1 billion from Tencent, Hillhouse Capital (Hillhouse Capital), IDG Capital (IDG Capital) and Boyu Capital (Boyu Capital), bringing the total capital of this Beijing company to US$1.8 billion. The market valuation is valued at $7.8 billion.
Founded by Wang Yi, a computer science PhD at Princeton University and former product manager at Google, LAIX (LAIX) uses a different model. This innovative education technology company was listed on the New York Stock Exchange in 2018, and its net income in 2019 was US$147 million, a 61% jump from 2018.