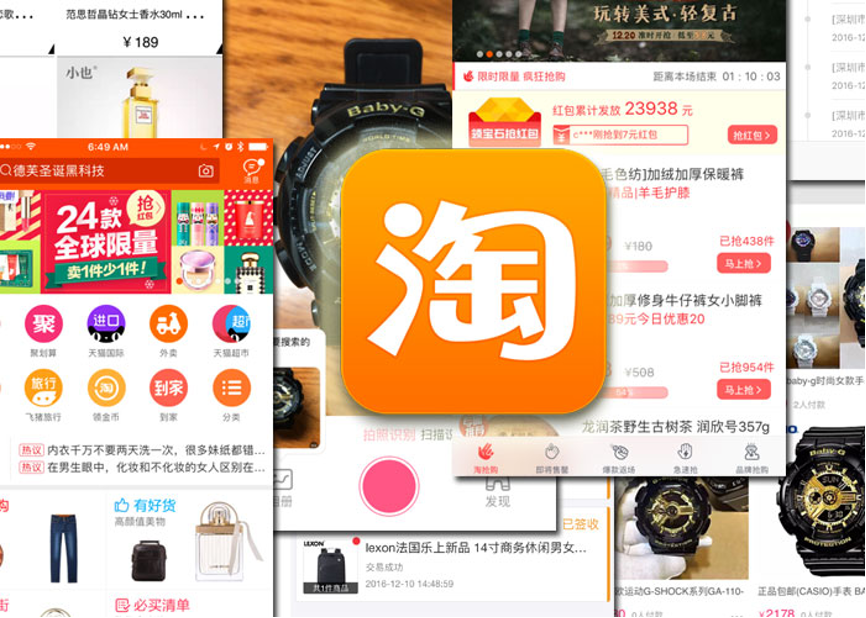 The widespread availability of smartphones gave rise to the popularity of mobile shopping apps which has helped further drive the growth of China Ecommerce. China Shopping apps have become the most popular way for users to access online shopping. According to research from China Internet Watch, over 80% of Chinese online sales were generated from mobile apps, and this trend is expected to continue in the future.
#1. Taobao- The Best Known China shopping app
Average Monthly Users (MAUs): 540.27 million
The Alibaba-backed app has always been a synonym for "online shopping" in China. Ever since its launch in 2003, it remains the most preferred China shopping app and continues to act as a trend-setter for other e-commerce platforms. Operating on a C2C business model, Taobao allows the sale of goods and services between individuals.
For a direct comparison, it acts like the Chinese equivalent of eBay (without the auction-style) with a marketplace focused business model. Any person in China can register easily to become a merchant and sell to users on the platform, with Taobao acting as the platform and agent in between.
With this business model, it's no surprise that there is a huge range of products and services available on the platform. Nearly anything you can imagine can be found on Taobao and even things that might be beyond your imagination. The dominant position of Taobao is due to its advanced logistics providers, strong incentives for both purchasers and sellers, and its place as the trendsetter for Chinese e-commerce.
One example of Taobao's dominance was the creation of the Double 11 shopping holiday in 2009. Due to the popularity of this shopping holiday, Brands and competing for Chinese online shopping sites have had to follow the trend and offer promotions on the same day in the hopes of capturing a piece of the pie. Even foreign brands that do not usually participate in third-party shopping festivals, like Apple, now offer promotions on this day.
#2. Pinduoduo: Where Group Buying and Social Commerce Meets
Average Monthly Users (MAUs): 283.27 million
Ever since its launch in 2015, Pinduoduo has seen explosive growth. Within just three years of launching Pinduoduo rose to become the 2nd most popular China shopping app. In fact, it is the fastest growing app in the history of the Chinese Internet. Its Chinese name 拼多多 literally means to combine a lot of purchases.
What makes Pinduoduo different is that its primary features revolve around group-buying. This means that the more people buy a product the cheaper the products get. Naturally, this leads to users sharing the products with others in the hopes of getting cheaper products.
To further incentivize newly registered users, there are special RMB $1 deals to help users get familiar with buying on the platform. Regular flash sales and limited time offers to occur every day to boost the customer return rate. By setting up time limitations it shortens the customers' decision-making process and encourages impulsive buying.
The platform has proved most popular to residents of 2nd and 3rd tier cities, with lower income and consumption power. However, it should be noted that Pinduoduo's users are on the platform looking for deals, so this might not be the best platform for selling premium goods. Pinduoduo's unique business model has led it to climb the rankings and secure its place among the top China shopping apps.
#3. JD.com: Luxury Goods, Top-Notch Logistics, and more!
Average Monthly Users (MAUs): 263.64 million
JD.com (otherwise known as JingDong) started with a focus on the direct sale of electronic products in the 1990s. However, JD only really started to grow when it took its business online. It slowly added more and more categories until it developed into the all-around China e-commerce marketplace it is today!
The company has been recognized as a secure provider of not only domestic products but also goods from around the world. With just a push of a button, customers can get direct access to many global brands, including those which do not even have a physical presence in the country. With its nationwide logistics network, JD.com offers both same-day and next-day delivery. By getting its hands on the logistics network as well, JD, in fact, is the only China e-commerce platform that controls every part of its supply chain.
JD's worth is further proved by its collaboration with Walmart. Since 2016, the retail giant was confident enough to hand over all of its Chinese e-commerce business to JD, in exchange for a 5% equity share. Speaking of shareholders, JD is also backed by Tencent which maintains an over 21% equity stake.
JD.com is a leader in terms of luxury sales among China online shopping sites. With its well-developed logistics network, it is on its way to expanding its business empire globally by bringing more overseas brands into the Chinese market.
#4. XiaoHongShu – Content-driven Ecommerce Platform
Average Monthly Users (MAUs): 85 million
Launched in 2013 by Miranda Qu and Charlwin Mao, XiaoHongShu, literally the "Little Red Book", is a social e-commerce app with over 250 million registered users as of 2019. With a focus on beauty and fashion, it acts as a platform for people to post and share shopping tips, product reviews, and lifestyle stories. With the aim of authentic information sharing, the platform has successfully developed into a trusted source of advice and recommendations for its users.
Noticing users' demand for buying foreign goods, XiaoHongShu launched its own cross-border e-commerce platform, the "RED store" in 2014. It connects Chinese consumers with global brands by enabling users to buy overseas products directly through the app. Since then, XiaoHongShu has formed strategic partnerships with many overseas brands including Lancôme, Swisse, and Innisfree (Brands can open a brand account/digital store on XiaoHongShu). As of 2017, the platform has reached 6.5 billion yuan sales.
XiaoHongShu has been very successful in building a community of user-generated content (UGC). It has created a shopping cycle on the platform, which users
(i) Read shopping guides/product reviews from other users
(ii) Make a purchase through the app
(iii) Publish product reviews about the product
(iv) Communicate with other users about their shopping experience
To maximize the power of content marketing, XiaoHongShu invited famous celebrities and KOLs to open verified accounts and share beauty tips to other users. For example, FanBingBing has amassed more than 10 million followers on XiaoHongShu. Her following is so active that every face mask she ever endorsed was sold out on the platform. With celebrities settling in, XiaoHongShu has generated considerable traffic and further boosted user commitment to the platform.
Still, with over 3 billion pieces of content on the platform, the sheer volume of content makes it very difficult for XiaoHongShu to monitor. As of July 2019, the app was removed from the Android App Store due to government intervention. It was accused of facilitating the sale of restricted, forbidden and fake products, which included tobacco, electronic cigarettes and medicinal products such as skin-injection skits. According to Baidu, there were over 95,000 articles related to keywords "Cigarettes", "Smoke", "Tobacco" etc. on XiaoHongShu. All the related content has been removed upon the outbreak of the scandal.
The obstacle that XiaoHongShu is confronting may be alarming. Still, it is undoubtedly one of the best UGC-driven ecommerce platforms with an innovative business model. To keep ahead of the trend of content marketing, XiaoHongShu has been enabling different types of content format, including short videos and live streaming, which are currently prevalent in the China market.
#5 Tmall: The Premium China Ecommerce Experience
Average Monthly Users (MAUs): 80.2 million
As an offshoot of Taobao, Tmall concentrates on the selling of branded goods with a B2C business model. It is, in fact, the biggest B2C platform in China. Compared to Taobao, brands on Tmall are seen as more trustworthy, as buyers are buying directly from businesses rather than individual sellers.
Tmall has two versions, the domestic Chinese version as well as T-mall global. Getting onto Tmall global can be incredibly difficult as it can be difficult to get on the platform without being directly invited by Tmall Global itself.
Tmall and JD.com together account for over 80% of B2B China e-commerce transactions. With B2C e-commerce transactions making up nearly 60% of all online purchases and spending reaching an estimated 8 trillion renminbi, it's clear to see why this platform makes the top 5!
Only companies with an overseas business license or domestic Chinese business operations can set up a Tmall store. With Alibaba as an agent, brands can manage their own sales and website. Among the top 5 shopping apps, Tmall is the one closest to shopping in an actual shopping mall. The brands run their business on Tmall in the form of a "flagship store" which is heavily customizable allowing brands to maintain their image and showcase their brand values.
For overseas brands who depend heavily on their brand values and maintaining their brand image, Tmall is one of the best options for China e-commerce platforms to get started with.