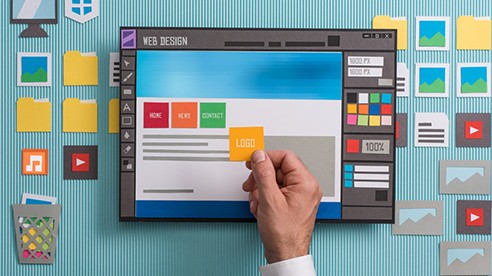 Introducing Baidu's Jimuyu (基木鱼), a website builder made for Chinese users
Jimuyu, the Baidu website builder(a Baidu advertising tool), also known as Jimuyu in English for B2B & B2C businesses to easily build a fast-loading mini website and perform marketing, track conversions & analytics.
Main Features include:
Manage mini-apps (multi-page builder app)
A one-page builder style

Covers website type such as H5 (HTML5) and mini-apps

Preset themes by industry, A.I. powered single pages, multi-page sites, blogs, retail stores, app downloads and video streaming
Website analytics (Fully-connected data with Baidu Analytics)
Built-in data filter which offers time filter, placement channels, website type, equipment type, page filter

Page metrics feature to measure the number of visitors, unique visitors, click buttons, effective consultation

Conversion metrics tool to measure conversion rates for different plugins such as marketing extensions
Toolbox (with a plethora of add-on tools for page optimization)
App-based landing pages + dynamic extensions: presents the most optimized landing page with copywriting components to users

Landing page creative linkage: improves on content vault output creativity to increase the relevancy
Marketing plugins (integrates with plugin management system)
Includes A/B testing to identify the best landing page

Page testing for landing page quality with conversion rate boost guide

Download speed booster and enhancement - install pack management, redirects to third-party platforms such as Tmall & JD.com retail stores

Integrates with Baidu analytics for extracting data from Omni-pages
My website management interface (highly efficient and convenient website management tool)
Uses block editor style to form content blocks with preset materials

An advanced editor which allows PSD files upload uses multiple-components stack layout

Materials vault management allows personal creatives management, one-click vault synchronization, royalty-free images, one-click copy for website creatives
Over 1000 website themes to pick from for various industries such as
Low-risk control industry - education industry and other common industries

High-risk control industries such as medical, repairing service, migration service, logistics, etc

Marketing service market - personalised themes are provided but comes with a fee
The Baidu Jimuyu has some very interesting feature which helps users to:
Skip the "ICP" registration process

Enhance site security

Fast loading speed

WYSIWYG editor

Over 1000 preset template designs
This is how Jimuyu's dashboard looks like, it's split into different categories that are located on the left navigation bar.
Main navigation tab consists of
#1 Navigation notification
#2 Data notification
#3 Notification center
#4 Display corner
#5 Recommended themes
#6 Controls history records
My website feature contains
1) Website search
2) Website check
3) Website edit
4) Website duplicate
5) One-click resize app
6) Website increase
Theme selection feature contains :
1) Theme selection
2) Theme search
3) Theme preview
4) Theme usage
5) Theme edit
Mini-app tab contains:
1) Create mini-app
2) Share mini-app
My creatives tab contains:
1) Images vault
2) Acquire creatives
3) Videos vault
Website analytics tab contains:
1) Data filter
2) Data reveal
3) Data graph chart
4) Data details
5) Data download
Toolbox tab contains:
1) Baidu analytics
2) Superspeed download
3) Ai Fan Fan's integration (as know as Baidu CRM)
4) Landing page quality check
5) A/B testing
And the marketing extension tab in 基木鱼 comprises of Ying Xiao Tong (Marketing Go)
Jimuyu's landing page builder has also streamlined the process of content review by just clicking on the publishing button and voila.
We'll just have to wait for the content to pass the review process via the AI-powered page builder and article feature inside this Baidu advertising tool.
Case Studies :
According to Baidu's website builder team, Jimuyu can reduce conversion rate cost by 85% and increase the conversions(sales leads) by 118%!
In one of the real estate, the company has decreased its cost per acquisition by 28%!
A building renovation company has also increased its sales volume from the usual 30-50% range to 65%!
Conclusion
Baidu Jimuyu helps businesses who're seeking to expand their presence in China. Most of the time, Chinese visitors experience sluggish loading time while trying to access the oversea website. The loading speed will be lowered down by a HUGE FRACTION and every millisecond counts in terms of SEO and CPC for digital paid advertising. Site experience is usually discounted when visitors and advertisers are trying to access the site from China. On the other hand, if the businesses move the web servers into China, they often face the challenges of ICP and local business setup.
Jumuyu offers the solution to overcome these obstacles. With Jimuyu's micro-website builder, every site that's being built using the service will be hosted on Baidu's servers. It enables the business to build a fast loading Chinese website in no time.