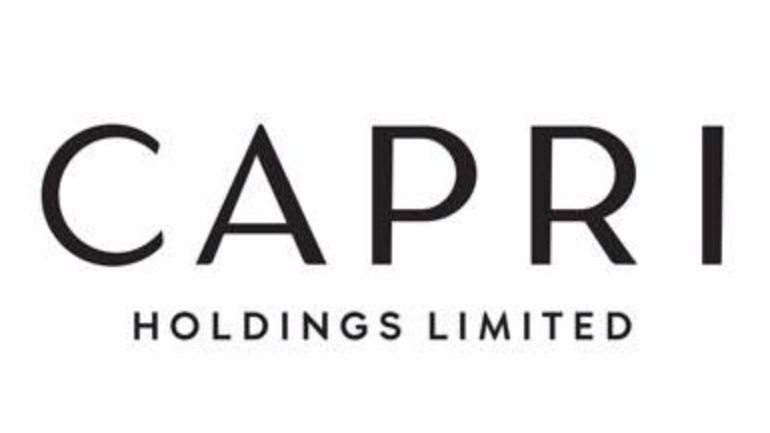 Capri, the parent company of Michael Kors, lost 11.3% in sales to $1192 million in the fourth quarter ending March 28, with a net loss of $551 million, compared with a net profit of $19 million in the same period last year, according to fashion business express. During the same period, sales of rival coach parent company tapestry group also fell 19.4% to $1.07 billion, with a net loss of $677 million.

In fiscal year 2020, Capri group's sales increased by 6% to US $5551 million, with a net loss of US $223 million. The performance of Capri group was significantly slower than the 10.9% increase in fy2019. However, the group stressed that affected by the epidemic, consumers accelerated the online transfer, and the e-commerce revenue of its brands all showed double-digit growth in the fourth quarter.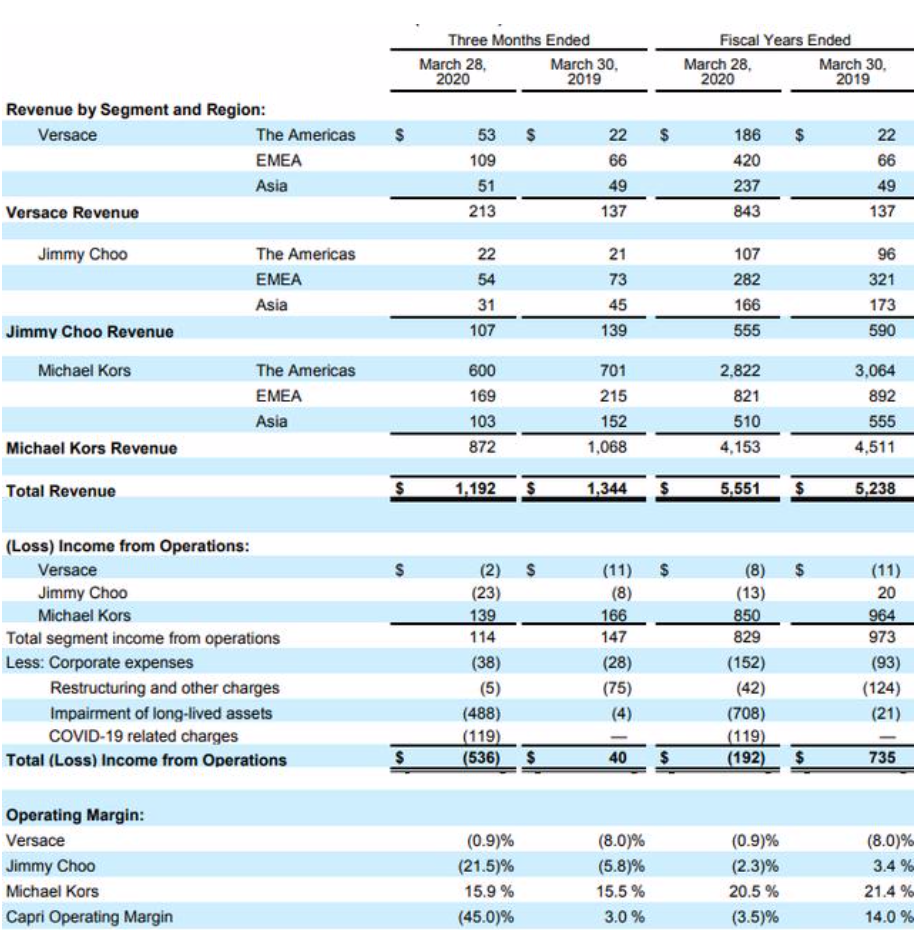 Key data of Capri group's fourth quarter and full year results (source: LADYMAX)
By brand:
Versace's fourth quarter sales surged 55.5% to $213 million, mainly due to a low base in the same period last year, with annual sales of $843 million;
Jimmy Choo fell 23% to $107 million, while annual revenue fell 5.9% to $555 million;
Michael Kors fell 18.4% to $872 million, while it fell 7.9% to $4.153 billion for the whole year.
By Region:
Versace's sales in the U.S. rose 141% to $55 million in the fourth quarter and 65% to $109 million in EMEA, including a 4% increase in sales in China's Asian market to $51 million;

The main revenue of Jimmy Choo came from EMEA. The sales volume decreased 26% to 54 million US dollars. The US market rose 4.7% to 22 million US dollars, and the Asian market fell 31% to 31 million US dollars;
Michael Kors' sales in the core U.S. market fell 14.4% to $600 million, EMEA's revenue fell 21% to $169 million, and Asia fell 32.2% to $103 million.

John D. Idol, chairman and CEO of Capri group, said bluntly in the financial report that the current environment of its brands is unprecedented, and the group can only choose to face the challenge directly. He also revealed that after the global suspension from early March to the end of April, Michael Kors and Jim y Around 90% of Cho's and Versace's stores around the world have reopened, and revenue has returned to 50% to 75% of the same period last year. However, the Asian market outside China is still hit by the stagnation of tourism retail.

At the same time, Capri is also increasing its investment in digitalization to better attract new consumers. During the outbreak, Donatella Versace, director of Versace brand, Sandra Choi and Michael Kors of Jimmy Choo all kept close contact with consumers through social media. In the past three months, Versace's official Instagram account fans alone increased by nearly 30% to 22 million.

In April and May, Jimmy Choo launched the shoe sketch competition, inviting fans to create on Sandra Choi's sketches, and Sandra Choi will select the top 10 from more than 10000 entries as products in the capsule series. As a result of the event, the number of fans on Jimmy Choo's official Instagram account soared 13% to 11 million.

Michael Kors has also released 18 videos on Instagram, Facebook, twitter and Kakao to share his life during the epidemic and encourage fans to deal with the current difficulties with a positive, optimistic and patient attitude. The brand held a super brand day in the official flagship store of Tmall and launched "MK my way" customized handbag. On the day of the event, 1.3 million visitors were visited and more than $2 million in revenue was generated.

In the quarter, Michael Kors's influence on social media worldwide grew by 8%, with 49 million fans. According to fashion business news, Michael Kors will cancel the ss21 fashion show originally scheduled for New York Fashion Week in September and postpone the show to mid-October to mid-November. The specific form is still under exploration. In addition, Michael Kors will also respond to CFDA's call to release only spring, summer and autumn and winter each year to better precipitate brand creativity.
In a conference call after the financial report, John idol also expressed his support for the recent black lives matter racial rights campaign and expressed his sincere sympathy to the deceased George Floyd. He said that the group is taking major measures to increase the diversity at all levels within the company, and would welcome, value and praise employees with different backgrounds.

In response to the increasingly uncertain global retail environment, Capri group revised the revolving credit and term loan financing on June 25, and signed a new $230 million, 364-day revolving credit financing, to further improve financial flexibility and liquidity. At the same time, the group will continue to cut expenses to ensure liquidity. It is expected to reduce working capital by about $500 million, inventory management costs by $400 million, and suspend its stock repurchase program of $400 million. In fiscal year 2021, the salary of all board members of the group will be reduced by 50%, John idol, Michael Kors and Donatella Executives such as Versace will give up all pay, and employees at other levels will also be cut by about 20%.

However, in addition to coping with the black swan of the epidemic, Capri group is still experiencing an inevitable period of running in. After winning over Jimmy Choo and Versace, how to integrate the supply chain and resources of the three brands organically and maximize the benefits is also a big problem. After all, luxury is a false proposition. Once brands fall behind the pace of the market and can't catch the trend, these brands will undoubtedly Miss new consumers.

Some analysts say that if the quality and design cannot be improved, the image of luxury brands will be mediocre, which will lead to the loss of consumers and the inability to sell their products. High inventory will lead to frequent discounts, which will eventually lead to a circular dilemma.

Given the slow recovery in overall performance and the decline in wholesale shipments, Capri Group expects revenue in the first quarter of fiscal year 2021 to be about 70% lower than that in the same period last year, and that it will close up to 170 stores in the next two years, most of which are Michael Kors brand stores, Versace and Jimmy Choo will continue to expand, or will add 100 stores and 74 stores respectively, with the goal of resuming growth in 2022.

As of the stock market closed on 3rd of July, Capri's shares fell 0.72% to $15.23 a share, down 60% since the start of the year and now has a market value of about $2.2 billion.

Ref: LADYMAX (ID: Imfashionnews)