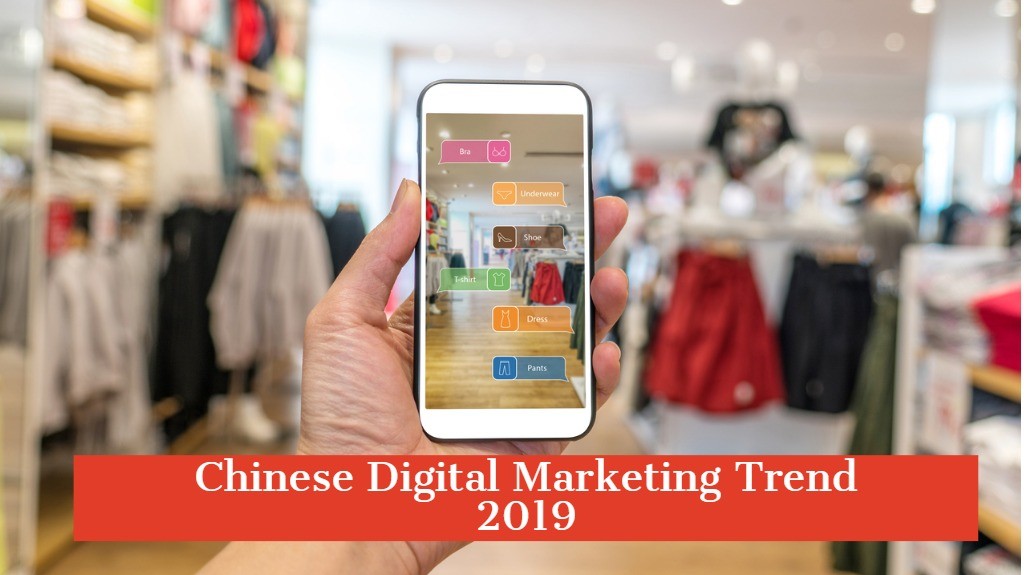 7 Major Trends of China Digital Marketing in 2019
The constant changes in the digital media landscape have pushed the development of China's digital marketing. Last year 2018, China's IoT (Internet of Things) and short videos developed rapidly, artificial intelligence and social media marketing also had sustainable development. China's unique user base, media and technology background has nurtured a unique digital marketing industry.
AdMaster and TopMarketing released the "2019 China Digital Marketing Trend Report" at the GDMS Data Summit "Intelligent Growth in 2019". The report interviewed 110 advertisers and 130 digital marketing practitioners in China and made a comprehensive forecast of China's digital marketing prospects this year. This article focuses on extracting several key points of the report for interpretation.
01
China's digital marketing spend will grow by an average of 20% this year
According to AdMaster data, as many as 79% of advertisers in China will increase their digital marketing spend in 2019. Nearly 30% of companies will increase their budget by 30% or more, with an average budget increase of 20%, compared with 18% and 17% in the past two years.
79% of advertisers will increase their digital marketing spend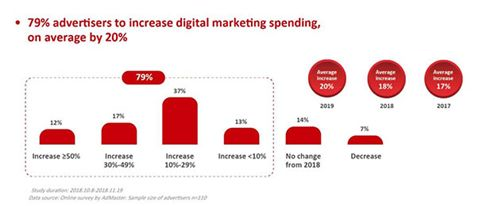 02
81% of advertisers will increase their mobile advertising budget
Mobile phones are still the most popular advertising carrier. 81% of advertisers will increase mobile advertising spend in 2019. PC-side advertising is almost stagnant, with only 11% of advertisers will increase their PC-side advertising budget.
2019 advertising budget trends of various platforms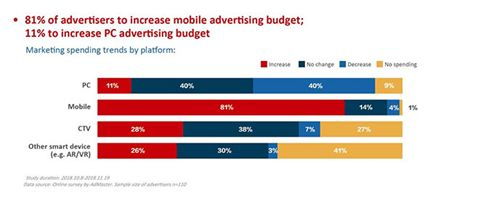 The penetration and activation rates of network TVs are steadily rising. As in 2018, advertisers' attitudes toward network TV ads are still polarized: 28% of advertisers will increase their marketing budget for network TV, while 27% of advertisers will not advertise on network TV at all. But since last year, the number of advertisers who cut their budgets for network TV or did not advertise on network TVs has fallen by 10%, indicating that advertising budgets on network TVs are growing.
2019 network TV advertising budget trend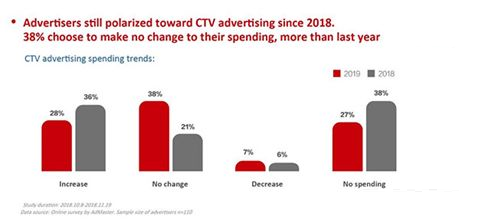 With the development of Internet of Things technology (especially smart voice devices), media forms become more diversified. 26% of advertisers will spend more on smart devices other than mobile, PC and network TV.
03
Social media marketing has increased spend on KOL and short video
The popularity of social short video and social e-commerce applications has made social media marketing more and more important in digital marketing, which directly affects the distribution of advertising budgets.
According to AdMaster data, in 2019, 81% of advertisers will increase their social media marketing budgets, with an average growth rate of 21%, continuing to maintain high growth of last year.
81% of advertisers will increase their social media marketing budgets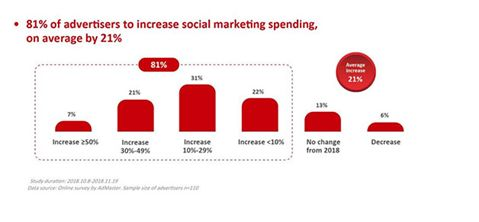 More than 50% of advertisers use KOL marketing, short video/live, or official WeChat accounts as social marketing channels. KOL promotion is very popular, which means that KOL has contributed considerable brand exposure and sales in the social marketing process.
Social Media Marketing Trends in 2019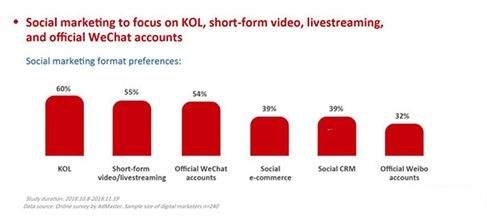 Short-video social media such as TikTok and Kuaishou are very attractive to users and can provide high conversion rate. Although the popularity of live video has declined, live-stream and short video are still hot spots in social media marketing.
04
Search Engine Becomes PC Advertiser's First Choice
AdMaster data shows that search engines, social media and video sites are still the three most popular forms of PC-side advertising; however, their relative popularity will change.
Compared to last year, advertisers who chose to advertise on video sites decreased by 22%. Now, search engines are the first choice for advertisers.
Advertising Budget for Search Engines, Social Media & Four Kinds of Websites
In 2019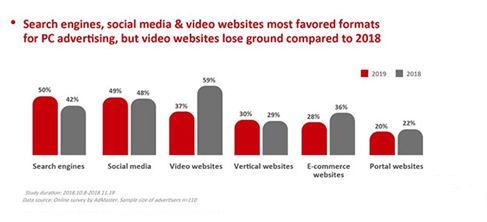 05
Social and video platforms occupy the main mobile advertising budget
More than half of advertisers use social platforms and video platforms as the main carrier of mobile advertising. Vertical media and e-commerce platforms ranked third, each with 37% of advertisers to choose.
Main Distribution Platform of Mobile Advertising in 2019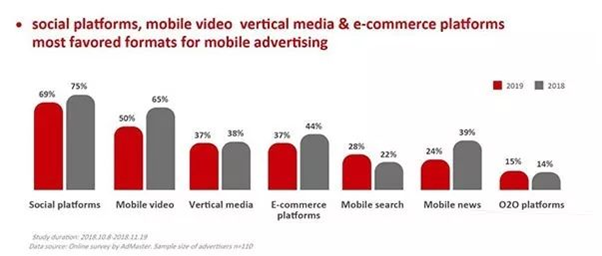 06
Content Marketing focuses on network variety shows, original short films and reality shows
39% of advertisers will spend their content marketing budget on online variety shows. Due to the shift in users' consumer video consumption habits and the rise of short videos, the popularity of original video content and short films ranked second, surpassing online and TV dramas. The reality show is still very popular.
content marketing form preferences in 2019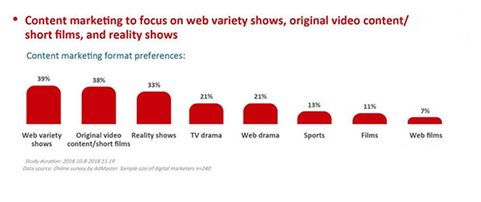 07
Automated marketing and marketing cloud
is the most popular marketing technology in 2019
According to AdMaster's data, up to 60% of digital marketers believe that automated marketing and marketing cloud driven by big data will be the most popular marketing technology in 2019.
the most important marketing technology in 2019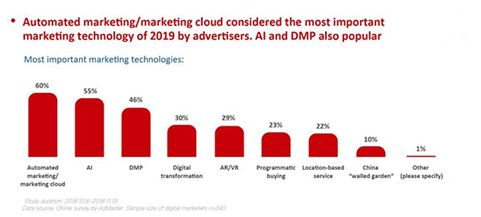 In addition, the revolutionary artificial intelligence technology and the "brain" of enterprise data management and decision-making - DMP (Data Management Platform) is also highly respected. With internet companies competing to develop voice assistants, speech recognition has become the most widely used artificial intelligence technology in the past year. Artificial intelligence also plays a key role in autonomous vehicles, medical image recognition and smart retail. At the same time, DMP, as the central hub of data integration, management and application, plays an important role in the digital transformation of enterprises.
Chen Le, chief operating officer of AdMaster, said: "Big data and artificial intelligence are reshaping the digital marketing landscape. With the increasing popularity of the Internet of Things, media fragmentation will continue to exist, but the factors driving marketing have not changed, that is -- innovative data technologies and content. Data, artificial intelligence and content are the three most important forces behind the growth of each company."