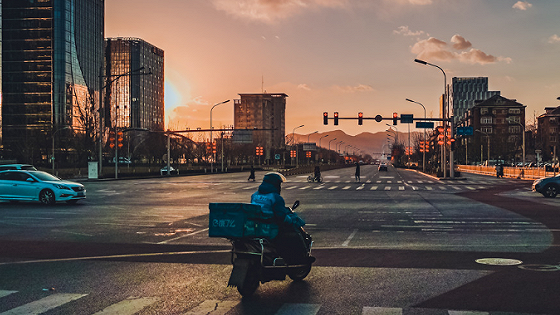 Public data shows that in 2021, the GMV of TikTok's live broadcast e-commerce business has exceeded 800 billion. This means that in less than two years since the establishment of an independent e-commerce department, the GMV volume of TikTok live e-commerce has caught up with one-tenth of Alibaba.
TikTok and Kuaishou have adjusted the local life sector as one of the highest priority projects. In terms of scale, local life is a rare market on the Internet with potential growth, and the ceiling is high enough. It is one of the few areas that can bring trillion-level growth space for short video platforms. The layout of local life can also better maintain the advertising business. In recent years, there has been a differentiation in the advertising industry, and advertisements are more used in scenarios that can directly facilitate transactions. Therefore, short videos are increasingly reliant on in-loop advertisements (merchants and KOLs purchase advertisements from platforms to complete transactions).
According to data from the Prospective Industry Research Institute, the market size of China's Internet local life service industry will reach 2.6 trillion yuan in 2021, and by 2025, its market size is expected to reach 4 trillion yuan. The product form of short videos is also naturally suitable for the scene of local life. Since TikTok officially started local life in the second half of 2021, by the first half of this year, TikTok's local life GMV has reached 22 billion, and it is planned to reach 50 billion by the end of the year.
According to the research samples of China Merchants Securities in some first-tier business circles, the number of TikTok merchants have reached one-third or two-thirds of a certain top enterprise. On the other hand, the product form of the short video matches most of the service scenarios of local life, and the video content form can even shorten the consumer decision-making cycle. In addition to helping to open up new scenarios for short videos, local life can also better maintain TikTok's advertising business.
Under the external economic downturn, the advertising market is clearly differentiated, and advertisers have put forward higher requirements for advertising efficiency. For example, advertisers prefer marketing expenses that can be converted into sales more efficiently. Therefore, those platforms that can complete closed-loop transactions and enable advertising to directly promote transactions, such as Meituan, JD.com, and other companies, have maintained rapid growth in advertising revenue. However, companies with long marketing links and unable to complete closed-loop transactions, such as Baidu, have experienced negative growth in revenue. As a result, JD.com's advertising revenue has surpassed Baidu and ranks among the top 3 advertising revenue of listed Internet companies.
The changing trend of Internet advertising is also reflected in the advertising structure of short video platforms. According to a report, in the second quarter, the internal loop advertising of TikTok and Kuaishou accounted for 40% of the total advertising revenue. Kuaishou officials also acknowledged the importance of internal loop advertising. In the first quarter of this year, the growth rate of the "internal loop advertising" of Kuaishou was about three times the growth rate of Kuaishou's overall advertising.
The so-called internal loop advertising means that merchants and KOLs pay advertising fees to the platform to purchase traffic in order to facilitate more transactions. It can be seen that the premise of internal loop advertising is that the platform can complete closed-loop transactions. When the platform is increasingly reliant on in-loop advertisements, it is particularly important for short video platforms to increase local life so that local transactions can be completed within the platform to further stimulate merchants' advertising investment.