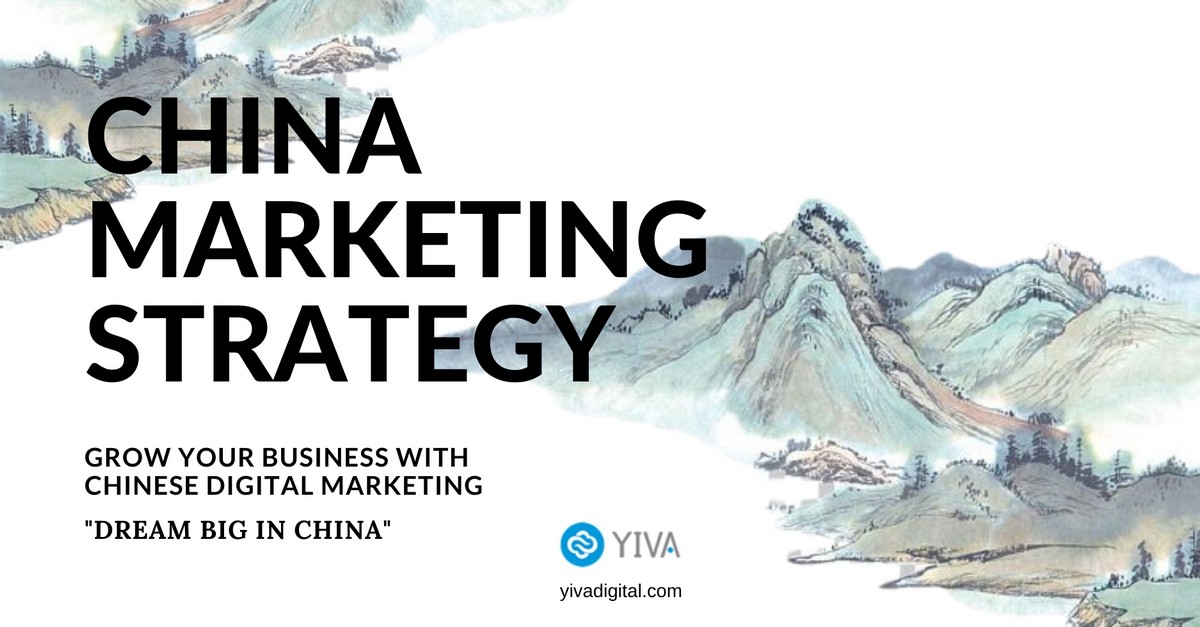 Having with proper digital marketing strategies in China can ensure that brands reach not only consumers through B2C but also valuable partners through B2B tools.
From search engines to social media platforms combined with the funnel approach, YIVA Digital provides the marketing advice for China that your brand needs to effectively jump into the market and generate successful lead generation and an authentic, useful presence. Learn about the methods for achieving B2C and B2B productivity whether you are just starting out or looking to craft better online methods.
Digital Marketing for Brands in China
In 2020, Chinese consumers with online users reached 989 million users. To put that into scope, the Chinese market accounts for a fifth of internet users worldwide and holds a market value of 15 billion USD.
Search engine and social media platforms showcase the wide range of opportunities for Western brands to reach the Chinese audience. Yet, other useful developments with live-streaming and commerce platforms also provide invaluable tools for businesses in the Western market to also enter into the market in China.
Both B2C and B2B marketing approaches tap into the popularity of these platforms in Chinese culture and reward brands with lead generation, sale conversions, and cross-border partnerships.
Using Funnel Approach
The funnel approach uses lead generation marketing advice for China especially for Western brands to turn potential consumers into loyal customers. It is broken into three stages: top of the funnel (TOFU), middle of the funnel (MOFU), and bottom of the funnel (BOFU).
TOFU is centred on increasing the visibility and trustworthiness of your brand so that potential consumers feel comfortable and interested in what you have to offer. Both paid ads and organic posts contribute to this level.
MOFU takes the initial awareness established in TOFU and builds strong, long0term relationships between online consumers and your brand and content. Paid ads and partnerships with key opinion leaders (KOLs) are crucial in impacting the reliability and continuity of your brand's digital presence. This stage also drives the desirability of your products and services in the minds of potential customers.
BOFU is the result of the first two stages when potential consumers are converted into actual customers. For B2B, this is also the stage where new communication and engagement opportunities are formed. In other words, BOFU is where action and commitment take place from the success of the earlier stages.
5 Initial Tips to Build Strong Chinese Marketing Strategy
To maximize a winning Chinese digital marketing strategy, the base foundation of your international presence needs to be optimized for a Chinese audience. In order to do this, the best marketing advice for China includes the following five aspects every Western brand needs to incorporate from the start:
1) Localized Website
Your website is the gateway to sales and brand awareness. Social media and search engine lead generation ultimately pull potential consumers towards your website which means your website is the final stop for your target audience. The website and its content should be optimized for the local culture and language of your ideal customer. Read more marketing advice for China specifically to set up the best-localized website.
Best for: Both B2B and B2C
Both B2B and B2C success depends on the potential of your brand to adapt and target the right audience. Localization of your website forms the first impression of what your brand has to offer potential consumers and business partners.
2) Having a brand strategy for China
Branding your business as a provider of high-quality content across multiple platforms is key to retaining consumers' attention and ensuring that they return to your platforms in the future. Get acquainted with the top sources of information on Chinese culture, trends, and consumer news with these top news providers for digital marketing.
High-quality content means showcasing the value of your business to other companies and to consumers. It encourages engagement and interest in your brand and helps you stand out as experts in the digital marketplace. Branding is essential to forming lasting relationships with both of these groups.
3) Chinese SEO
Search engine optimization is vital in both the Western market as well as the Chinese market, but the platforms most beneficial to both are different. Get a better grasp of the Chinese search engine market and then brush up on the SEO marketing advice for China.
Search engine keywords put your brand out on display across multiple digital outlets and platforms. While it can definitely be useful for online brands to target consumers searching for specific products and services, it is even more effective to generate organic leads with other businesses hoping to connect and strengthen partnerships within the digital community.


4) Build Up Social Media in China
Platforms such as WeChat, Weibo, and Douyin are some of the top social media outlets for digital marketing success among Chinese consumers. As these platforms are critical access points for potential customers to research brands, services, and products as well as spread their enjoyment of brands through word-of-mouth, Western brands should be utilizing the popularity and usefulness of social media platforms in China.
More importantly, KOLs, key opinion leaders, are changing the way brands and consumers interact with each other. Develop KOL marketing techniques using this cost-effective marketing advice for China and social media influencers.

Social media is one of the most used online tools consumers use to find and engage with brands and products they are interested in. It might be the place they first search for areas of interest or browse through influencers' posts to discover new products.

More importantly, it generates recommendations and reviews of products, which helps boost a brand's image and importance. The combination of trust and interest lends to engagement practices that can be converted to real action by consumers to communicate, promote, or buy a brand's product or service.
5) Accelerate with Paid Media and Advertising
Both banner ads and pay-per-click (PPC) ads can expand their reach beyond organic marketing. Cutting down on lead generation wait times can be effective in getting more brand awareness and engagement from the get-go. Both Baidu and WeChat are fantastic platforms with large sections of the market to dive into paid advertisement campaigns. From there, your business can find other advertising options to fit your budget and best target your ideal audience.
Using either Baidu PPC ads or LinkedIn, social outreach can be achieved by brands to connect with other brands in similar fields or form partnership blocks that can improve visibility and accountability. Of course, paid ads also help put products and services directly in front of potential consumers that are looking for these types of goods online.

The marketing advice for China found in these five tips covers the basics of getting established from the beginning, but developing more concrete approaches to B2C and B2B techniques helps you tailor a more direct and effective
China marketing strategy
.
Final thoughts: Get More Winning Marketing Advice for China
YIVA Digital has been helping businesses with marketing advice for China across a number of industries and has first-hand experience themselves to put Western brands front and centre in the Chinese market.
Contact our professionals to take the marketing advice for China to the next level and craft the most ideal funnel approach for B2B and B2C success. The Chinese marketing strategies you need to dominate the Chinese digital landscape are just a few clicks away!