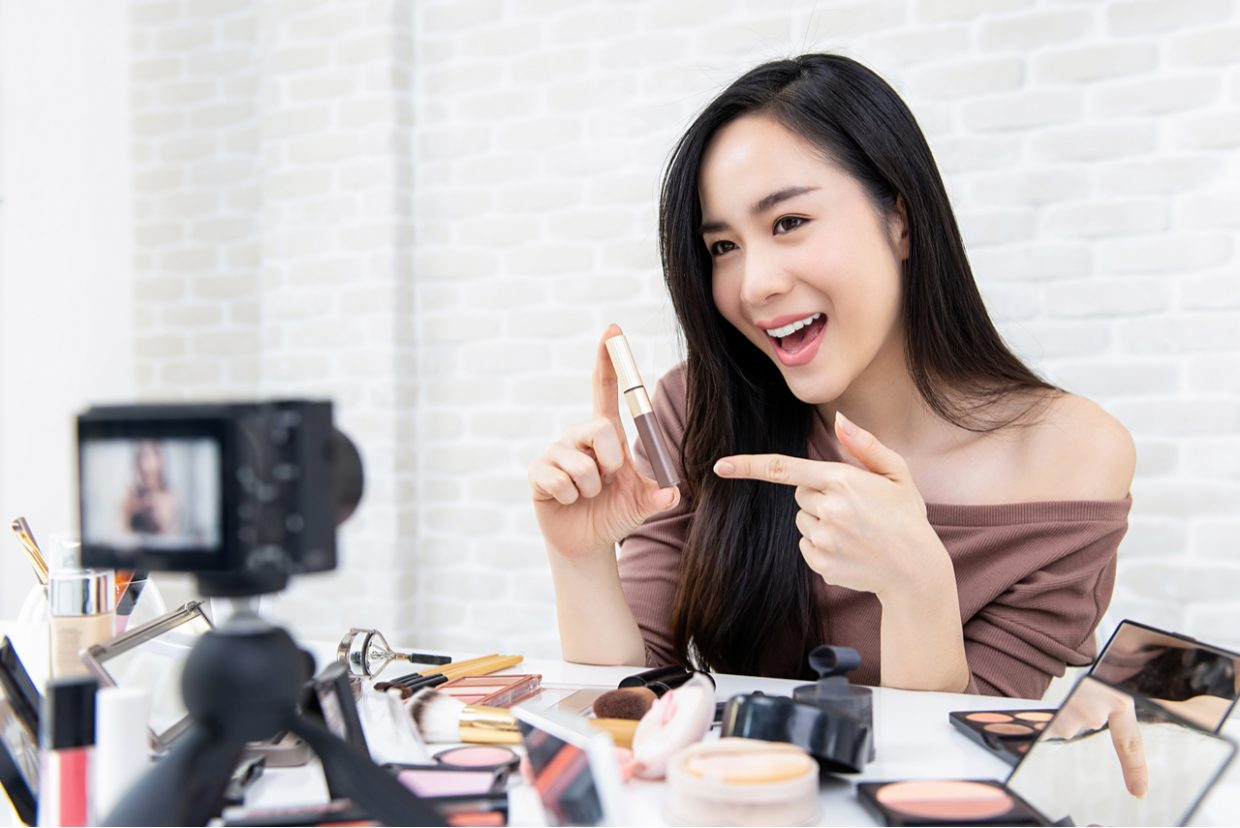 Brands have paid more and more attention to KOLs using a variety of social platforms, from Douyin and Xiaohongshu to Weibo and Bilibili. Brands are drawn by the promise that with KOL collaboration – many of whom enjoy a fan-base of tens of thousands, if not hundreds of thousands or even millions – and tapping into their traffic can help the brand reach new audiences and drive sales.

Brands Send Products To KOLs
This is the most common format for collaboration. Usually, the brand will send its product to the KOL for the KOL to sample or try out. After receiving the product, the KOL will apply their usual content style to feature the product. This could involve a variety of creative ideas, photography and/or video, writing a post to describe how they feel about the product or talking about the product to the camera. The point is to highlight what makes the product unique or valuable, drawing out the main selling points.
Of course, this can include product-for-post exchanges as well as paid posts. Generally speaking, product-for-post is a more suitable approach for working with micro-influencers or bloggers with relatively few followers. The quality of content produced by larger-scale KOLs will be relatively higher, so allocating a budget for paid collaborations is more justifiable with these influencers. Moreover, many high-traffic KOLs simply do not accept product-for-post deals.

Offer KOLs a Limited-Edition Gift
As mentioned above, many top bloggers do not accept product-for-post collaborations, but brands can put their creative teams to work to design unique, limited edition spin-off products. These special editions can be given to KOLs as gifts in the knowledge that a truly unique and engaging product will move many KOLs to willingly create and post content featuring the brand and the special edition item.
A number of popular KOLs have told that if they like a product's design and packaging, they are more likely to post photos or videos of gifts received from brands. "A brand gave me custom pajama with my name printed on it," said one blogger. "I took photos of them, and because it's special, I often share them on social media."
Beauty blogger @傅沛MelilimFu has also received cosmetics with her own name and shared photos with her fans, saying such gifts are really meaningful. Another custom gift she appreciated was a portrait of herself given to her by Make Up For Ever to match a red lipstick launched by the brand at that time. Fu said this was such a special gift that she hung it up in her home.
KOLs Forward Content Shared On Brand Account
Here, the brand will have created a piece of content primarily to share on its own accounts, for example, a video advertisement or a lucky draw. The brand will recruit multiple KOLs to forward the content and recommend the brand, in order to maximize exposure. Establishing these multiple channels of exposure and engagement drives fans of the individual KOLs to interact with the content and ultimately with the brand. This type of cooperation is especially common on Weibo.
Recruit a KOL to Be Featured in the Brand's Ads
This is a deeper collaboration between the brand and the KOL, with the KOL becoming the focal point of the brand's ad campaign. The brand may draw on the KOL's personal story and personality to create and build on a narrative for the campaign. For example, influencer @一禾湯树 appeared in an ad for Fotile water purifiers. The brand leaned on his professional background in the catering industry to create an authentic endorsement campaign that helped the brand and product gain a foothold in the minds of consumers.
Invite KOLs to Appear at Offline Pop-up Stores
This form of cooperation is also relatively well-received among KOLs. "I like activities that have a sense of participation," said blogger @Aaron小宇哥. "Interesting events allow me to better understand the brand's culture."
Events and activities that show off good design will grab more attention and give the brand more opportunities for exposure. KOLs share photos as a matter of habit, but brands need to give them something really worth sharing. "I prefer events that are beautifully decorated because they make it really convenient to take pictures, as well as activities where the brand prepares small gifts," said @钟恩淇.
Commission-based KOL Collaboration
Many brands are trying a commission-based approach to KOL collaboration, but it's especially well-suited to a brand whose marketing goals are focused on sales. This can generally be divided into two models. First, a pure commission-based agreement, where the KOL's entire fee is derived from sales. Second, the brand may pay a flat fee for initial exposure then offer supplementary commission for each ensuing sale. New brands or brands with limited marketing budgets will often rely on pure commission arrangements to keep expenditure tied strictly to the collaboration's performance.
One important thing to note is that brands that use commission-based collaboration should not choose KOL partners based on an analysis of a given KOL's content. This kind of collaboration calls more on KOLs who are deeply in tune with their fanbase and are both experienced and skilled salespeople.
Live-stream KOL Collaboration
When it comes to commission-based KOL collaboration, the past two years have been dominated by live streaming and the record-breaking sales feats achieved by some of the top KOLs in the industry. There are a few pitfalls to avoid though. Don't set promotional prices too low, as this can undercut brand value and inhibit brand-building. For similar reasons, don't sacrifice your hot products – use live-stream promotions as an opportunity to sell special editions, lesser-known products or those with lower volumes. Brands should also carefully evaluate each live-streamers' sales ability before entering into a collaboration.
In terms of where live streams are hosted, there's room for flexibility. Brands can allow live-streamers to host live-streams on their own accounts, or invite the KOLs to join in on the brand's live-streams as participating guests.
Brands Incubate KOLs by Themselves
In recent years, it's become more common to hear about brands wanting to develop their own stables of in-house KOLs. Brands who have gone this route explain that it takes a high degree of professional knowledge to promote certain products effectively. Since most bloggers lack understanding of the products, they naturally lack persuasive power and as a result, sales remain relatively weak. This is especially frustrating when brands are allocating large budgets to KOL collaborations that yield disappointing results. In this context, the rationale for brands to incubate their own KOLs is clear.
Developing talented KOLs is harder in practice than in theory. To succeed in this realm, the brand needs to have a comprehensive understanding of the relevant social media platforms they are targeting. That means a solid grasp of the tactics that drive results on each platform and establishing a close, productive relationship with the platforms. On top of that, the brand and its KOLs have to get the content right, frequently producing content of the highest quality, and launching it at the right time and in the right place.