The market in China is quickly changing and evolving. Baidu has long dominated the search engine sphere, and they still control an estimated 54% of the search engine market share. Over the past few years, however, there has been a fast rising competitor that is seizing an increasing percentage of the search volume.
Qihoo 360 was developed by a security software company and its search engine so.com. It was only launched in 2012, but by 2015 it controlled an estimated 30% of the Chinese search market.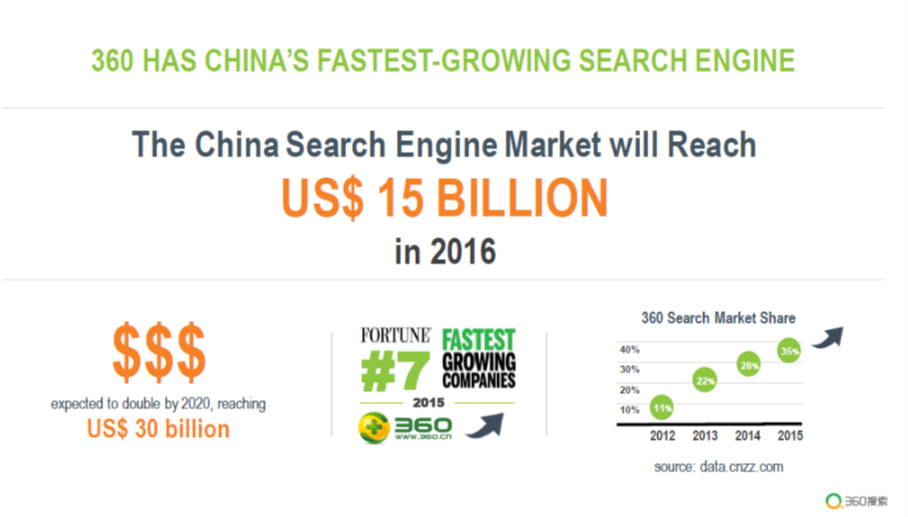 As Qihoo 360's partner, we provide FREE 360 account creation service.
FAQs:
Q: Why can't we open an account directly with 360?
A: Same as Baidu, 360 delegates the client relationship and administration works to the agencies like us. Especially when serving the oversea clients, we are in the frontier of supporting the clients to through the initial procedure.

Q: How long does it take to open a 360 account?

A: In general, it might take 1-2 weeks for 360 to review, approve and process the account. Some industry such as financial service might take longer.

Q: Do we need to have a website in Chinese?
A: In order to provide good user experience to Chinese users, a Chinese website or micro-site is essential.

Q: What's the minimum deposit requirement for 360 Ads?
A: The 1st time deposit requirement for oversea advertisers is minimum $2,000.

Q: What is the procedure and what documents do we need to provide?
A: New advertisers need to fill the web-based application form, then provide your local business certificate, bank statement and 360 Advertising Agreement with signature.

Q: What will happen once our 360 account is created?
A: You will receive login details of 360 advertising platform. Then you can start to promote via Qihoo 360. You can use our 360 account management service if you need help.
Q: Do we have to use your management service?
A: You have no obligation to use our Chinese SEM management service, if you already have 360 advertising expert.
To Open a new 360 account, please click on ORDER button, we will take you to the 360 Application Form.